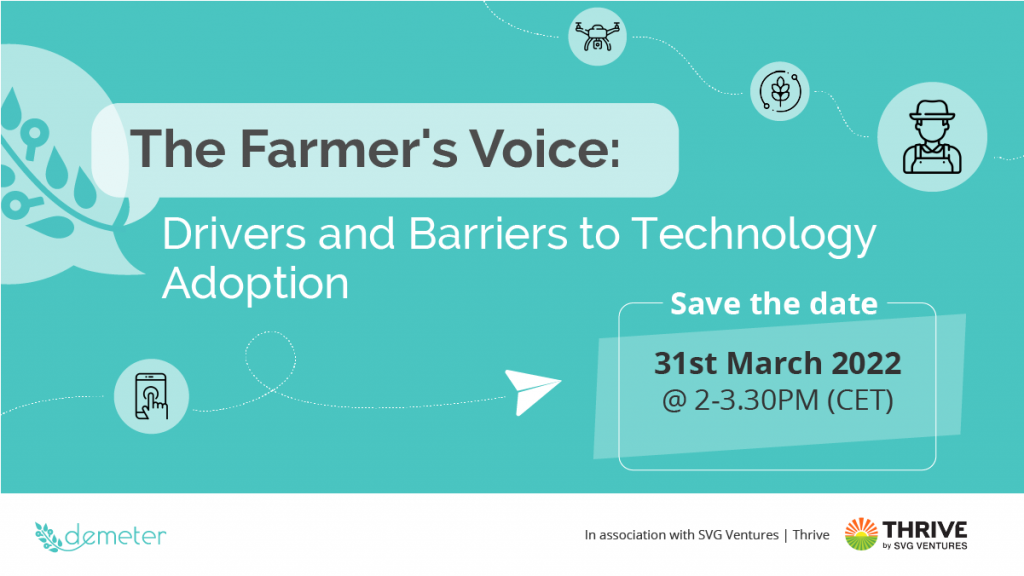 DEMETER in association with SVG Ventures | THRIVE is organizing an online event titled 'The Farmer's Voice: Discussing Drivers and Barriers to Technology Adoption' on 31st March at 2-3.30PM (CET). The webinar will share results of the recent DEMETER survey which aimed to better understand farmers' needs, interests and concerns regarding the adoption and use of Smart Farming Technologies.
Farmers and technology providers will join a panel discussion to consider some of the key issues uncovered from the survey and what more can be done to further encourage technology adoption.
With the results of the survey, DEMETER aims to contribute to the body of knowledge regarding Smart Farming Technologies but also to ensure that farmers' feedback is considered in the creation and development of new farming solutions. Within DEMETER, we aim to transform the technology ecosystem for agriculture by reinforcing and establishing agreed standards, an agreed common information model, an interoperability space combined with an online/physical networked ecosystem and a set of interoperability components which will make the use of IoT technology effective and easy. Therefore, better understanding farmers' needs, interests and concerns is important in ensuring a Multi-Actor Approach for the solutions developed by DEMETER. This approach ensures that newly developed technical solutions address real-life needs.
The farmer survey was translated into several languages namely English, Spanish, French, Romanian, German, Portuguese and Norwegian. In total, approximately 500 responses were received from countries within Europe and outside Europe.