ABOUT

DEMETER PROJECT

DEMETER's goal is to lead the digital transformation of Europe's agri-food sector through the rapid adoption of advanced IoT technologies, data science and smart farming, ensuring its long-term viability and sustainability.
Demeter
Aims
DEMETER aims to put digital means at the service of farmers:
1. Using a human-in-the-loop model that constantly focuses on mixing human knowledge and expertise with digital information.
2. Focusing on interoperability as the main digital enabler, extending the coverage of interoperability across data, services, platforms, M2M (machine to machine) communication, and online intelligence but also human knowledge, and the implementation of interoperability by connecting farmers, advisors and providers of ICT solutions and machinery.
3. Transforming the sector by building the solution on an array of digital technologies: Internet of Things, Earth Observation, Big Data, Artificial Intelligence, and of digital practices: cooperation, mobility and open innovation.
These choices have been made working with DEMETER's large user base (approximately 6,000 farmers) and extensive piloting coverage (20 pilots across 18 countries – Belgium, Czech Republic, Finland, Georgia, Germany, Greece, Ireland, Italy, Latvia, Montenegro, Norway, Poland, Portugal, Romania, Serbia, Slovenia, Spain, Turkey).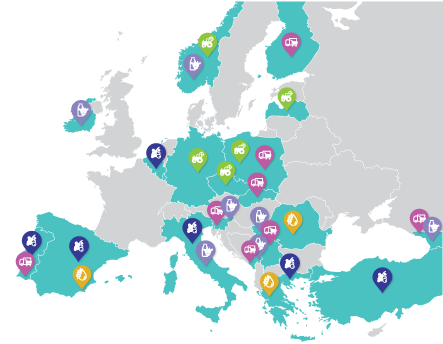 DEMETER
OBJECTIVES
The overall objective of DEMETER is to empower farmers and farmer co-operatives through six defined objectives:
ONE
Analyse, adopt & enhance
Analyse, adopt, enhance existing (and if necessary, introduce new) Information Models in the agri-food sector easing data sharing and interoperability across multiple Internet of Things (IOT) and Farming Management Information Systems (FMIS) and associated technologies. Use these information models to create a basis for trusted sharing / exposure of data between farmers.
TWO
Build knowledge
Build knowledge exchange mechanisms, delivering an Interoperability Space for the agri-food domain, presenting technologies and data from different vendors, ensuring their interoperability, and using (and enhancing) a core set of open standards (adopted across all agri-food deployments thereby) coupled with carefully-planned security and privacy protection mechanisms (also addressing business confidentiality).
THREE
Empower the farmer
Empower the farmer, as a prosumer, to gain control in the data-food-chain by identifying and demonstrating a series of new IoT-based, data-driven, business models for profit, collaboration and co-production for farmers and across the value chain, leading to disruptive new value creation models.
FOUR
Establish benchmarking
Establish a benchmarking mechanism for agriculture solutions and business, targeting end-goals in terms of productivity and sustainability performance of farms, services, technologies, and practices based on a set of key performance indicators that are relevant to the farming community.
FIVE
Supplier relationship
Reverse the relationship with suppliers, through an innovative model in which suppliers are responsible for ensuring that a final solution is optimal to the farmer's existing context and expressed needs.
SIX
Demonstrate the impact
Demonstrate the impact of digital innovations across a variety of sectors and at European level.