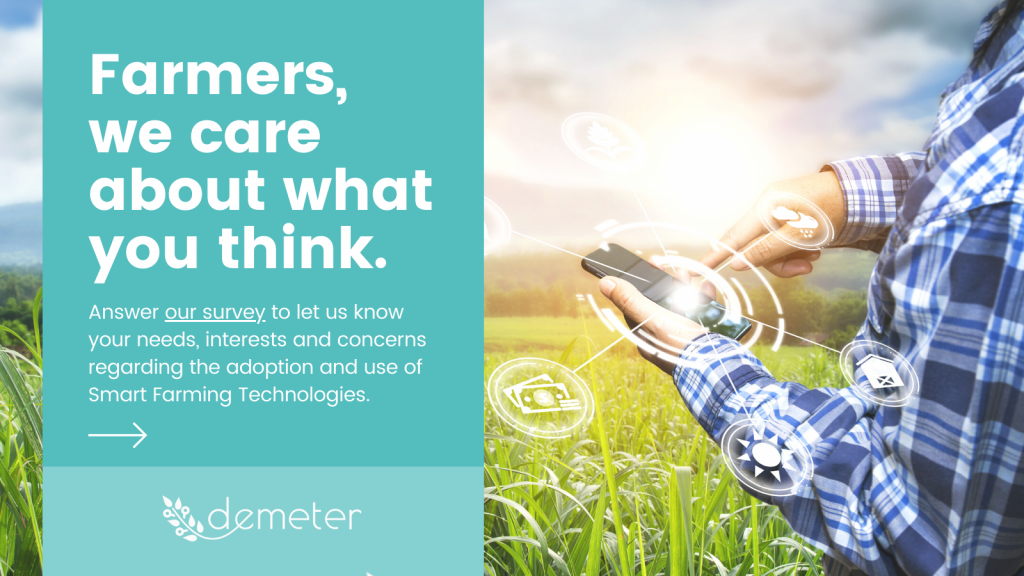 DEMETER, a project funded by the European Commission, focused on the digital transformation of the agri-food sector, has prepared a survey to better understand farmers' needs, interests and concerns regarding the adoption and use of Smart–Farming Technologies.
With these survey results, DEMETER can contribute to the body of knowledge regarding such technologies but also ensure farmers' feedback is considered in the creation of new farming solutions.
The survey is available in several languages:
All responses are anonymous with no identifying information about respondents captured.
About DEMETER
DEMETER aims to lead the digital transformation of Europe's agri-food sector through the rapid adoption of advanced IoT technologies, data science and smart farming, ensuring its long-term viability and sustainability. DEMETER aims to do this by enabling data sharing and use between different services, technologies, and providers, providing farmers with solutions that are applicable to how they farm regardless of production systems, farm size or location.
DEMETER deploys smart technologies through a series of 20 pilots across 18 countries focusing on clusters relating to arable crops, precision farming, fruit and vegetables, livestock health and welfare and the agri-food supply chain.
Website |Email | Twitter | Facebook | LinkedIn |
Project Coordinator:  Kevin Doolin at Walton Institute