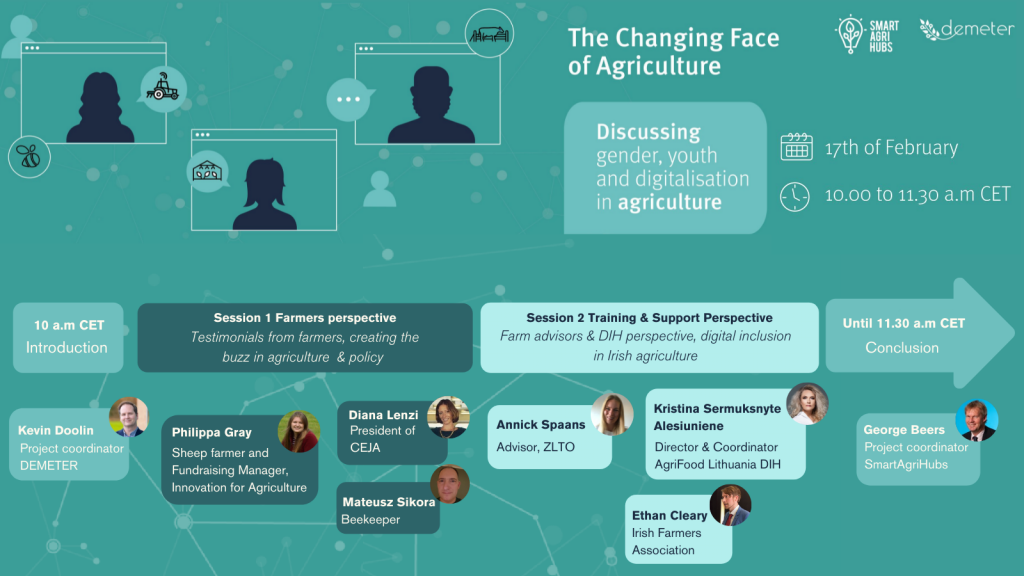 Introduction
On February 17th, DEMETER and SmartAgriHubs joined forces to host an event titled 'The Changing Face of Agriculture –  discussing youth, gender and digitalisation in agriculture.  Significant conclusions related to the age, gender, pay and education gap in agriculture can be extracted from the data gathered on the "Agriculture, forestry and fishery statistics — 2020 edition" using the data from the last Eurostat (2016) and the study "The professional status of rural women in the EU – 2019" such as:
The majority of farm holdings (57.8%) in the European Union are run by farmers aged 55 years or more.
Only 28.7% of farm managers are women. The gender imbalance among farmers is particularly strong in the Netherlands; only 1 in about every 20 farmers (the equivalent of 5.2%) was female in 2016. Female farmers were also particularly uncommon in Malta (6.0% of all farmers), Denmark (7.7%) and Germany (9.6%).
For the economy as a whole, women's gross hourly earnings are on average 16.2% below those of men in the European Union (EU-28) and 16.3% in the euro area (EA-19).
Very few farm managers in the EU have full agricultural training. Most farm managers in the EU only have practical experience; this was the case for 7 in every 10 (68.3%). Less than 1 in 10 (8.9%) farm managers had full agricultural training, and the rest (22.7%) had basic agricultural training.
These statistics and feedback from attendees at our previous webinar on 'Gender in Agriculture' in October 2021 highlighted the need to discuss these issues and understand what can be done to attract more young people and more women into the agriculture sector.
The 'Changing Face of Agriculture 'event was divided into two sessions. First, hearing directly from farmers about their experiences and second, learning what supports and training are available from farmer organisations, farm advisors and Digital Innovation Hubs. The event was opened by coordinator of the DEMETER project, Kevin Doolin who then handed over to the moderator, Hazel Peavoy of Walton Institute, VistaMilk and SmartAgriHubs.
Contributors
In the first session, we heard from Philippa Gray, a sheep farmer from the UK. She also works as Fundraising Manager for Innovation for Agriculture and as a Use Case Leader in the FAIRshare project. Philippa grew up on a small family livestock farm in Yorkshire, England, and with the support of her family began breeding her own pedigree sheep when she was 14 years old. In her presentation, Philippa outlined some of the digital tools used on-farm particularly to help with the management and sale of sheep as well as the marketing of produce directly to consumers. There has been a real transition on farm moving away from pen and paper to using software. Finally, Philippa outlined the need for specific agricultural education in schools, particularly targeting females from non-agricultural backgrounds. In addition, better career guidance and access to work experience on-farm is needed to encourage more young people and females into agriculture.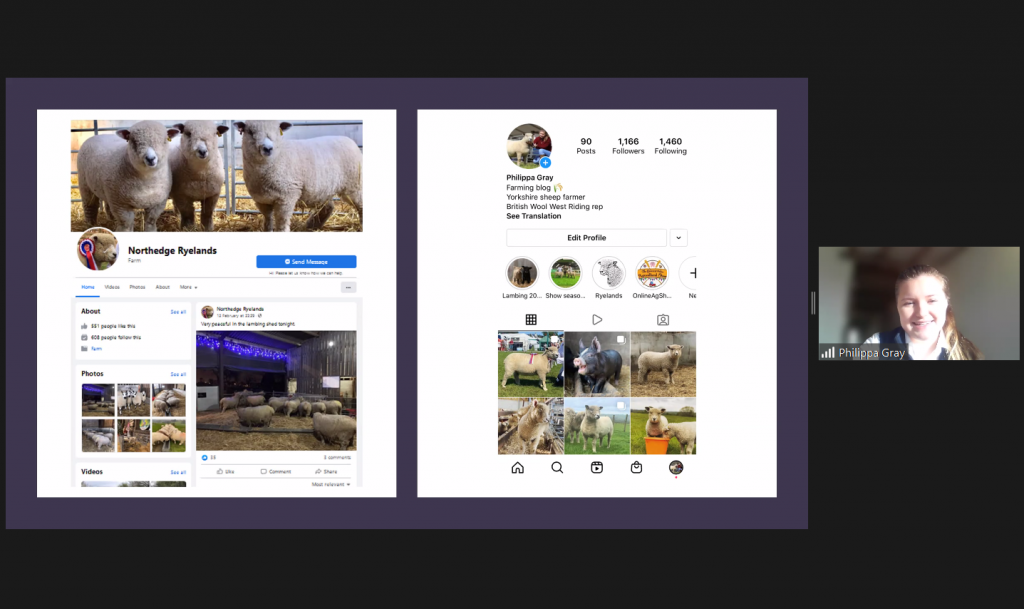 Next, we had Mateusz Sikora a beekeeper from Opalenica in Poland who runs a professional farm apiary, taking over from his father several years ago. They have 600 hives in total and transport all the hives to various crops so that they can obtain honey throughout the season. Mateusz took us through his story of how he modernised the apiary changing all machinery and investing in equipment. Technology is hugely important to help transport the hives, to help with weather monitoring and to increase security on the apiary against animals and thieves. Drones are used to help with marketing images and to plan the arrangement of the apiary in field. In addition, Mateusz is participating in one of the DEMETER uses-cases using sensors to monitor temperature and remotely assess the health of the bee colony. Finally, Mateusz highlighted that to encourage more young people into farming, more talks are needed at primary and kindergarten level to pique children's curiosity.

The final speaker in the farmer session was Diana Lenzi, president of CEJA, the European Council of Young Farmers. Diana is a young farmer from Tuscany where, since 2008, she manages her family's winery. She cultivates and processes grapes to make Chianti Classico wines, olives for EVO and ancient grains for flour and pasta. Diana explained the urgent need for a strategy for generational renewal at national and EU level. There are grand ambitions for the farming sector but there are not enough people now involved in farming to bring this vision to life. Challenges such as access to land, access to finance, access to knowledge and skills have yet to be tackled broadly. To overcome these issues, there is a need to make agriculture more attractive and to demonstrate how agriculture is using technology and science to its benefit. Positive success stories need to be shared. Finally, Diana outlined how there is a need to make agriculture more profitable to ensure farmers can make a decent living from their work.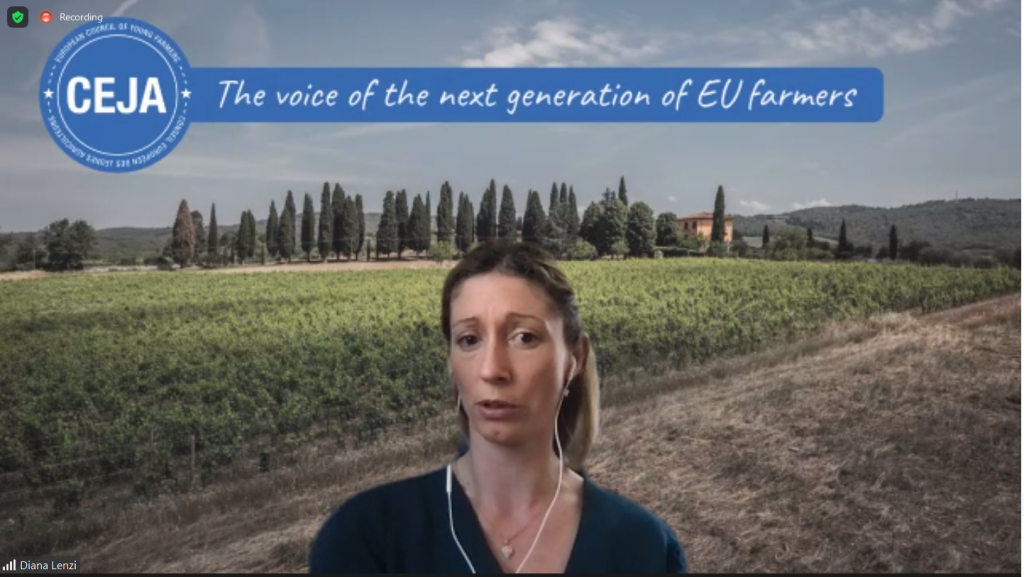 After the first session in the event, participants were invited to share questions with the panel of speakers and participate in the Mentimeter session.  Mentimeter is an interactive presentation software where attendees can share their opinions and thoughts.  A full analysis of the results of the Mentimeter polls will be shared in a joint report from DEMETER and SmartAgriHubs.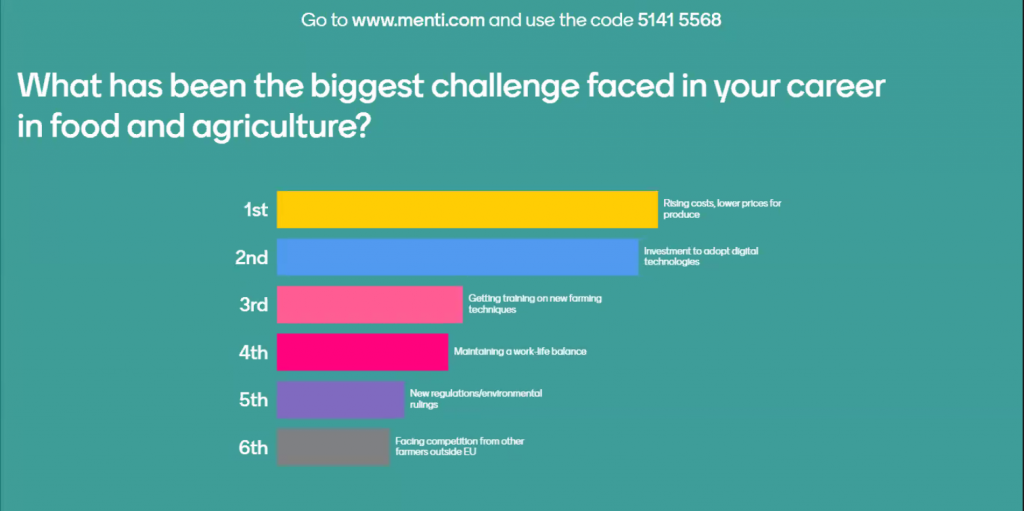 The first speaker in the Support & Training session was Annick Spaans,  a project expert in food security & health for ZLTO in the Netherlands. Currently, she is mainly engaged in supporting livestock farmers in reducing antibiotic use and improving biosecurity on farms. She facilitates knowledge exchange for them. Annick shared her experiences of being a young, female farm advisor and explained that she does not feel any bias in the farmer-advisor relationship, but sometimes feels the need to prove herself. The interest in technology from young farmers is high due to the work relief, better control of the farm and improved work-life balance. However, the major pitfall is sometimes believing that the technology will solve all the work problems; technology is not a complete solution. Annick finished by summarising what developments are needed to encourage more young people and females into farming. These include summer schools, more testimonials, mentorships programmes and online platforms.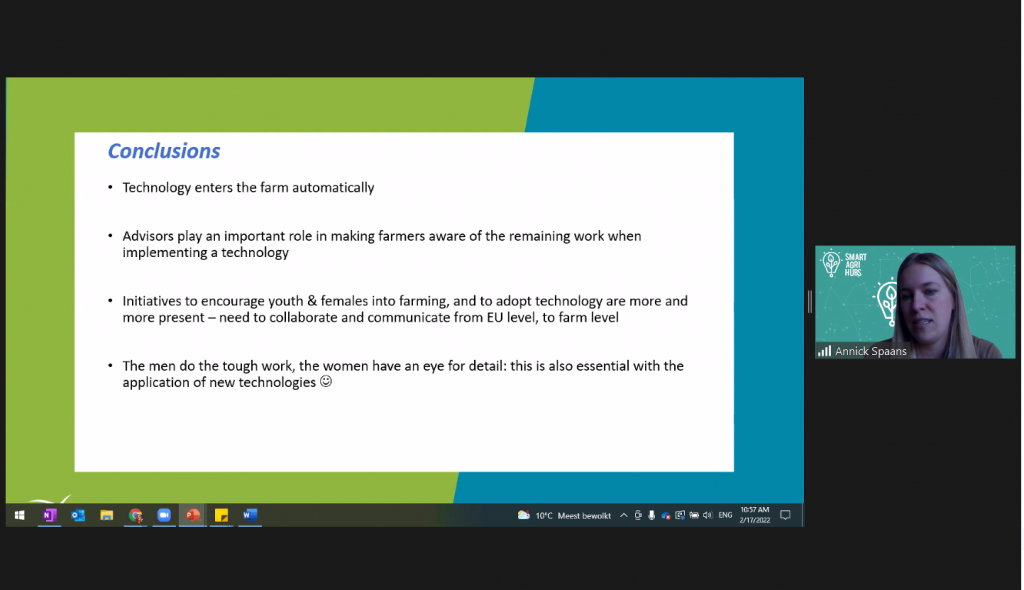 The next presentation was from Kristina Sermuksnyte-Alesiuniene Director and coordinator of the Digital Innovation Hub AgriFood Lithuania DIH. She is an international digitalisation expert with more than 12 years of experience in product R&D and innovation managing, developing ICT products on a cross-sectoral basis. Kristina explained what Digital Innovation Hubs (DIH) are and their role to bring together information for the common pursuit of digital transformations in the agriculture, food and associated sectors. DIHs link stakeholders with initiatives to provide all-round support in the research, development and deployment of AgriFood Tech innovations. Kristina highlighted the need to bring young people back into regions and the important role of women in orchestrating ecosystems around them.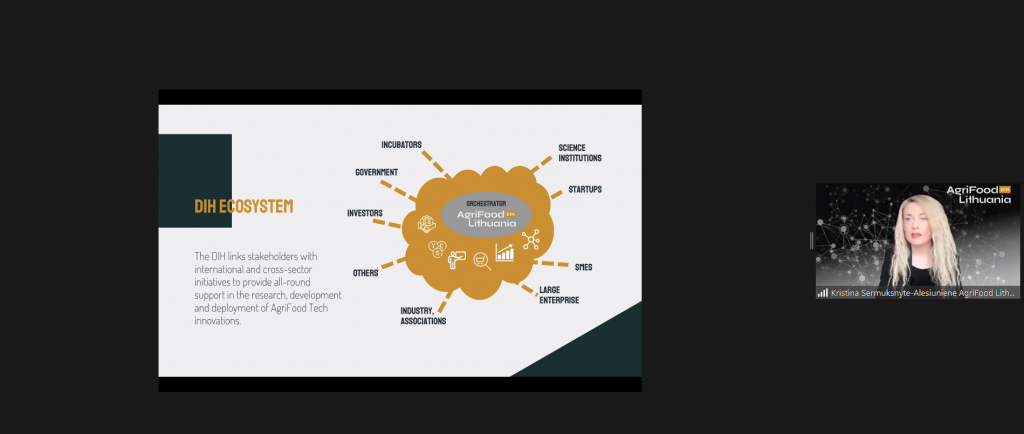 Our final speaker was Ethan Cleary, Technology and Innovation Executive with the Irish Farmers' Association. Ethan comes from a 5th generation arable farm and is passionate about connecting agriculture with technology that benefits and supports the farmer. From a policy perspective, his current focus is driving the innovation and digital agenda for Irish farmers at an EU and national level with the aim of ensuring farmers benefit from this era of rapid digital transformation. Ethan discussed how farmer associations/organisations play a critical role in encouraging young farmers and females into the sector. He gave local examples of what is being implemented in Ireland to encourage the adoption of technologies mapping it to the National Economic Social Council research on Digital Exclusion and showing where progress has been made and where it is lacking in Irish agriculture. Ethan finished by summarising some of the emergent challenges in digital agriculture such as farm data, interoperability, education, connectivity and the digital divide, analytics and UX improvement.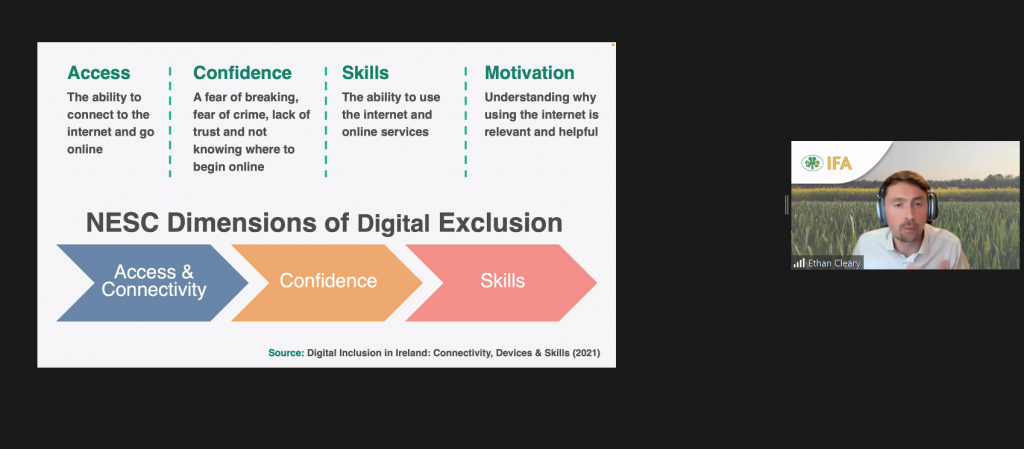 The Support & Training session finished with a Q&A with the speakers and interactive discussion again with attendees using Mentimeter. George Beers, SmartAgriHubs coordinator, concluded the event highlighting how young farmers, female farmers and digitalization come together to make an interesting perspective for the future of agriculture. The work is ongoing to create awareness and put these issues on the agenda, but we need a unified approach.  With that in mind, DEMETER and SmartAgriHubs will produce a report following on from this event outlining how we can continue to spotlight the issue of youth and gender in agriculture and influence future policies.