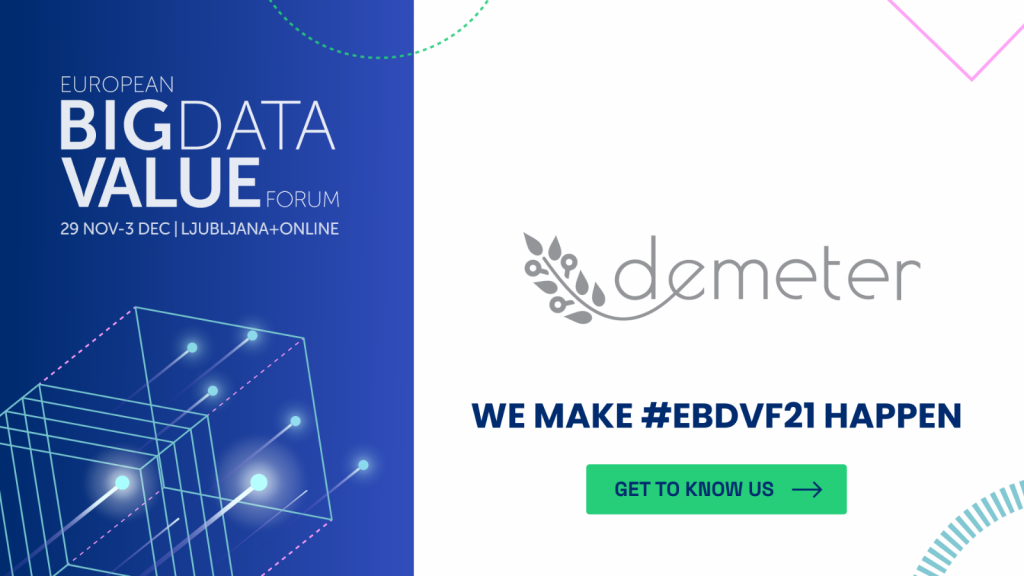 The European Big Data Value Forum (EBDVF) took place from the 29th of November to the 3rd of December. The theme was "Digital Transformation powered by Data and AI".  The programme was structured into five tracks discussing the topics of adoption of industrial and trustworthy AI, Data Spaces, Data-Driven business models, standardization, societal impacts and many others.
DEMETER was one of the project sponsors, running a virtual booth daily during the lunch break of the Forum.  In addition, we presented at the Atos booth on 2nd December. Representatives from Atos and Tragsa outlined the overall objectives of DEMETER and detailed our pilot on 'Pest Management Control on Fruit Fly' using automatic traps and machine learning.
We were also involved in the session ' Data Spaces for a sustainable Data Economy in Agriculture: a multi-stakeholder perspective'. The session highlighted the state of play of Agricultural Data Spaces in EU, investigating challenges, opportunities, expectations and ambitions of some of the key stakeholders involved, encouraging and/or benefiting from their creation. Thematic workshops focused on the following domains:
Governance – innovating agriculture in the context of the EU strategy and policies. The overall financing strategy for the European Agriculture Data Space. Synergies sought at different geographical levels and innovation stages (e.g., between RRF, Horizon Europe, Digital Europe, etc.). Risks of overlapping. Ambitions and goals over time.
Technology – what is the state of the art? Which are the most convincing use cases and the most promising advancements? The major challenges: trust, interoperability, data quality, data sovereignty, digital divide, connectivity, etc.
Farming – how farmers see data sharing? What is the added value for them? Which are the risks perceived?
Policy making – what has been done so far? Which results have been achieved and what is their impact? Which are the next steps?
Having considered the different perspectives, the most relevant aspects were highlighted in order to stimulate a discussion on the remaining challenges and how synergies can be created between the different actors in order to foster the fair, sustainable development of the Data Economy in the agricultural sector.