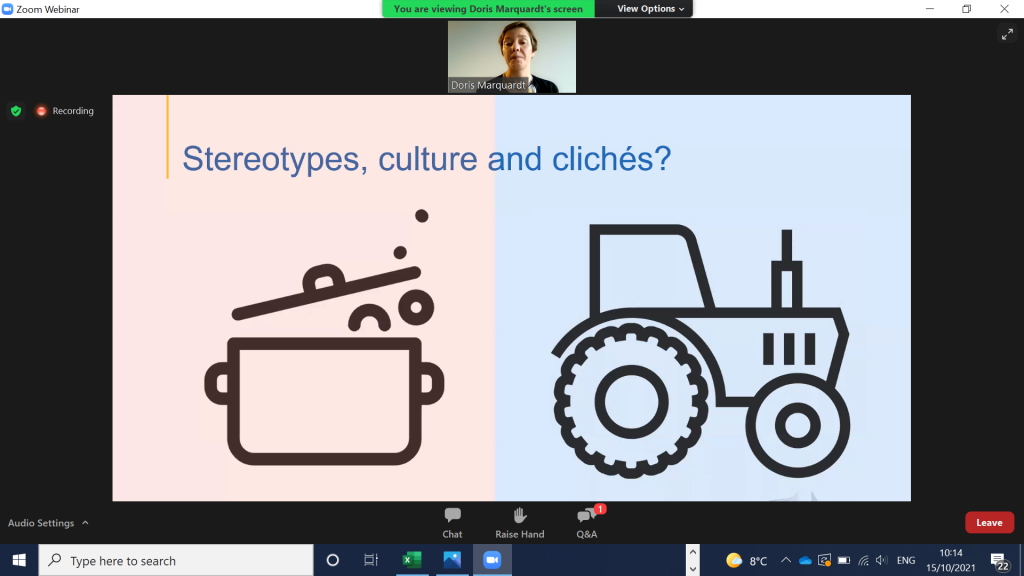 Introduction
DEMETER and SmartAgriHubs, leading Horizon2020 projects promoting the digital transformation of the European agri-food sector, came together to organise a webinar on October 15th to discuss the  importance of Gender in agritech. The webinar ran on International Rural Women's Day which aims to create awareness of rural women and girls, their needs, and their critical and key role in our society.
Prominent professionals representing farmers, farmer organisations, technology and innovation projects analysed the current status of the gender gap in the agritech sector.  The webinar was moderated by Hazel Peavoy of SmartAgriHubs and Senior Strategic Business Partner in Agriculture at Walton Institute, Waterford Institute of Technology's largest research centre.
Speakers and Content
George Beers, the project coordinator of SmartAgriHubs, firstly welcomed everyone to the webinar and highlighted how gender equality is a strong focus in SmartAgriHubs.  Through their gender task, project reporting, newsletters and other initiatives, they are shining a spotlight on the importance of gender equality.
Dr. Doris Marquardt of the European Commission, in the Directorate-General for Agriculture and Rural Development spoke next and posed an interesting question – What would a digital decade look like with women in the driving seat? She outlined the EU 2030 objective of a tech savvy continent where all are digitally empowered. Doris also discussed the personal, societal and economic implications of the digital gender gap, and noted the importance of women in ICT tailoring solutions for female end users.
Faustine Bas Defossez, Head of Agriculture and Land Management Programme, at Institute for European Environmental Policy was the first keynote speaker and highlighted that CAP does not simulate the necessary transition towards sustainable farming. She discussed how the preference seems to be the 'status quo' rather than improvement. Faustine noted that in relation to CAP the percentage of women involved in reform decisions, and agriculture presidency seats and leadership positions, is relatively low. More work is needed to address this.
The second keynote speaker was Hajnalka Petrics, Programme Officer (Gender Equality and Women's Empowerment) at FAO.  Hajnalka identified that the level of technical information provided to women in agriculture lags behind that of men and this causes a widening of the digital gender divide. She noted that digitalisation of the agri food system is not a silver bullet, and care needs to be taken to ensure equality in that regard. Importantly she noted that digitalisation needs to focus not only on access to technology but also to education and training around usage and breaking social norms.
Next, Dr. Teresa Hooks project manager for the EU funded FAIRshare H2020 discussed her work in the project, on women in advisory services, and their use and perceptions of agri tech. In this project the team is very focused on creating awareness of Digital Advisory Tools and Services (DATS). The project also produced some very interesting survey results around DATS and other digital technologies usage amongst male and female users.
Katarina Pavicevic of Montenegrin wine and grape brandy producer. "13. JUL PLANTAŽE" and of H2020 project DEMETER was the next speaker. Katarina presented one of the DEMETER pilots looking at disease prediction and supply chain transparency. She discussed the gender balance within DEMETER and within her own organisation. Katarina also outlined how the ministry of agriculture in Montenegro has prioritised the prevention of discrimination and caring for the rights of rural women.
The next speaker Ntuthu Mbiko Motshegoa, an agri-entrepreneur and SmartAgriHubs Gender Ambassador brought the discussion outside Europe and into Africa. She made a compelling story about the plight of and fight for women's rights in the continent, and the steps that are being made to reinforce that. Access to land was highlighted as a key barrier that needs to be addressed by policies and strategies. Her appeal to the EU-Africa partnership is that we need to have an action-oriented approach driven by real data.
Federica Basile, a farmer who moved from the high-tech industry in the UK to farming in Italy spoke next. She presented her depiction of the circular agri economy in her region in Italy, but more so the efforts around social sustainability. Technology was highlighted as a key enabler for the strong gender balance here, as were successful internship programmes at the Fattoria della Piana farm.
The final speaker of the webinar was Elena Sanchez Sanchez of INNOSETA, a European project funded under Horizon 2020 which establishes an international cooperation between 15 partners focussing on spraying equipment, training and advising. Elena spoke about the knowledge transfer within INNOSETA which aims to close the gap between science and farm deployment. She noted a good uptake in terms of gender balance on the platform.
Questions and Answers Session
An interesting Questions and Answers session followed discussing the need for initiatives to promote female leadership in the agricultural sector and the need to share female success stories locally and internationally. Government support was highlighted as being critical. Furthermore, translation is important, making sure that communication materials are available in local languages and supported by local communication networks on the ground in each country.
Conclusion
Finally, Kevin Doolin, DEMETER project coordinator and Executive Director of Walton, closed the session.  He summarised the main points from each speaker and also explained how DEMETER are contacting the leads of the 20 pilot projects to bring gender equality to the fore.  Kevin outlined how Walton in Waterford Institute of technology is already building on existing measures to meet the Commission's Gender Strategy in Research and Innovation.
In conclusion, it was evident from both speakers and attendees that there is a real interest in the topic of Gender in Agritech and a desire to narrow the gender gap in agriculture, ensuring gender diversity.  Both DEMETER and SmartAgriHubs are committed to continuing to work together on this topic. Watch this space for further activities and initiatives!
A recording of the webinar is available at https://youtu.be/545dXtBhgAQ
For any queries or comments, please contact us at info@h2020-demeter.eu and communications@smartagrihubs.eu