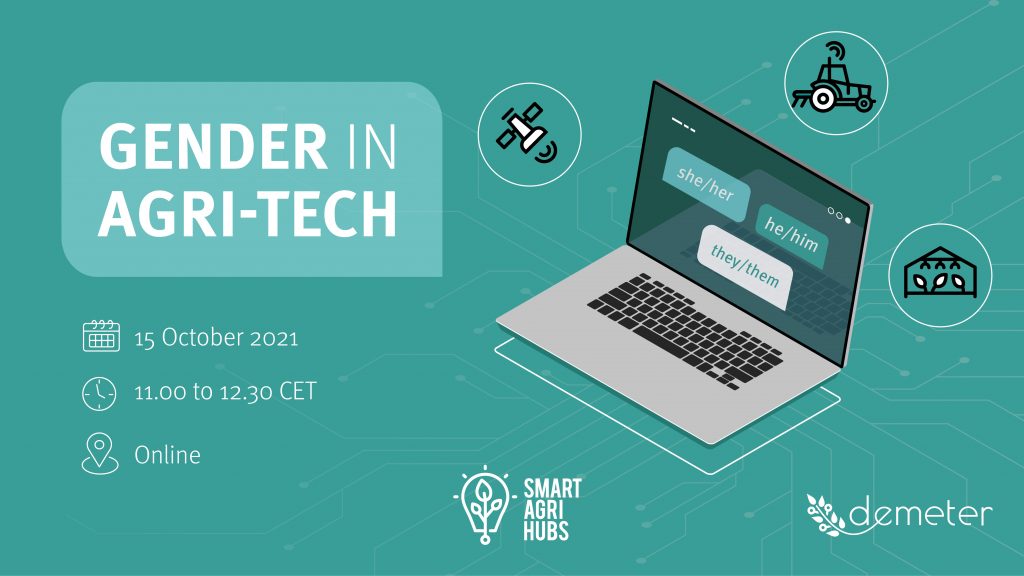 DEMETER and SmartAgriHubs, leading Horizon2020 projects promoting the digital transformation of the European agri-food sector, are organising a free webinar on October 15th at 11AM (CET) to discuss the  importance of gender diversity in agritech.
Prominent professionals representing farmers, farmer organisations, technology and innovation projects will analyse the current status of the gender gap in the agritech sector.  The line-up of speakers includes members from agritech projects such as DEMETER, SmartAgriHubs, FAIRshare, Innoseta and also representatives from the European Commission and The Institute for European Environmental Policy. The speakers will discuss their experiences working in agritech, the problem of attracting women to the sector and the specific challenges in reaching gender equality in this key European sector.
This free event, open to all interested attendees, is taking place online via Zoom on International Rural Women's Day (15th October) from 11-12.30 CET. This remarkable day outlines the significant role of women and girls in improving rural development worldwide.
In 2021, the International Rural Women's Day celebrates the theme of "Building rural women's resilience in the wake of COVID-19". With this premise the United Nations seeks to create awareness of rural women and girls, their needs, and their critical and key role in our society.
Free registration is available at: https://us06web.zoom.us/webinar/register/WN_6ujg-XRLSuuLbW9sHdQn9Q
About DEMETER
DEMETER aims to lead the digital transformation of Europe's agri-food sector through the rapid adoption of advanced IoT technologies, data science and smart farming, ensuring its long-term viability and sustainability. The project seeks to create a secure and sustainable European IoT Technology and business ecosystem.  DEMETER will demonstrate the real-life potential of advanced, standards-based, interoperability between IoT technology by adapting and extending existing standards into an overarching Agricultural Information Model.
Website |Email | Twitter | Facebook | LinkedIn |
Project Coordinator:  Kevin Doolin at Walton Institute
About SmartAgriHubs
SmartAgriHubs is a €20 M EU project under the Horizon 2020 instrument, and brings together  a consortium of well over 164 partners in the European agri-food sector. The project aims to realise the digitisation of European agriculture by fostering an agricultural innovation ecosystem dedicated to excellence, sustainability and success.
Website |Email | Twitter | Facebook | LinkedIn |
Project Coordinator:  George Beers