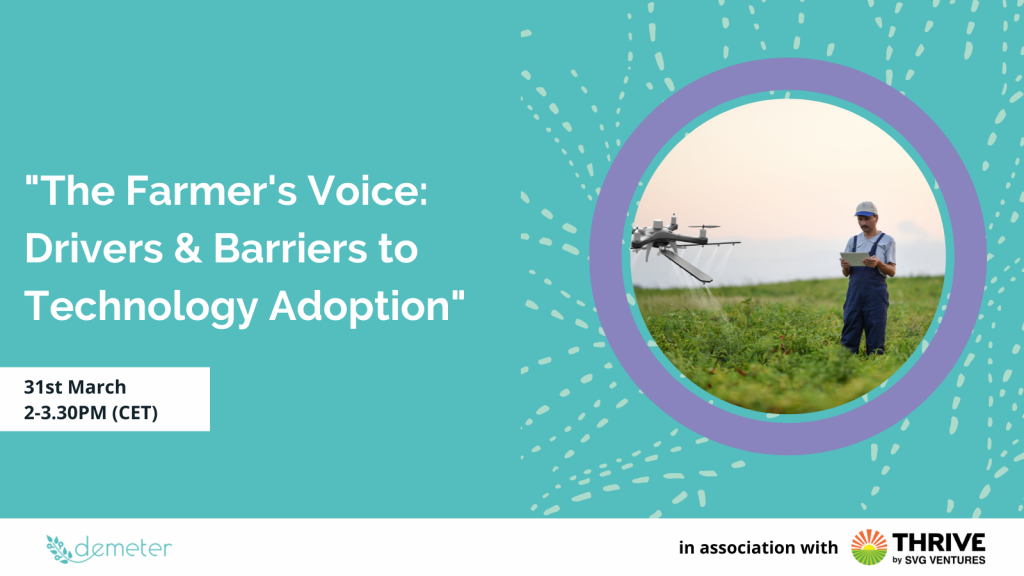 On 31st March, DEMETER held ' The Farmer's Voice' webinar to share the results of our survey to better understand the drivers and barriers to farmers' adoption of smart technologies. The webinar was organised in association with the World Farmer's Organisation (WFO) and THRIVE | SVG Ventures.
Panels of experts including farmers, technology providers and researchers discussed the key issues arising and what more can be done to address the challenges. Ethan Cleary of the Irish Farmer's Association was the moderator.
The first panel focused on 'Building the Right Environment for Technology Adoption' and featured:
– Erland Kjesbu, Dairy Farmer Norway
– Slobodan Spasovski, Association of Producers of Grapevine and Wines
– Nono Sekhoto, Farmer South Africa & GrowthShoot Founder
– Senka Gajinov, DunavNET
– Morteza Abdipourchenarestansofla, John Deere
The second panel focused on 'Building the Path towards Sustainability ' and featured:
– Edvard Shermadini, Fruit Farmer Georgia
– Alexander Berlin, Berlin Thinking
– Shalini Seaton, Farmer Jamaica
– Eva Muntion, RTDI & Tragsa
The recording of the webinar is available below:
Slides are available on SlideShare here
A report presenting the full findings from the survey is being prepared and will be shared soon.