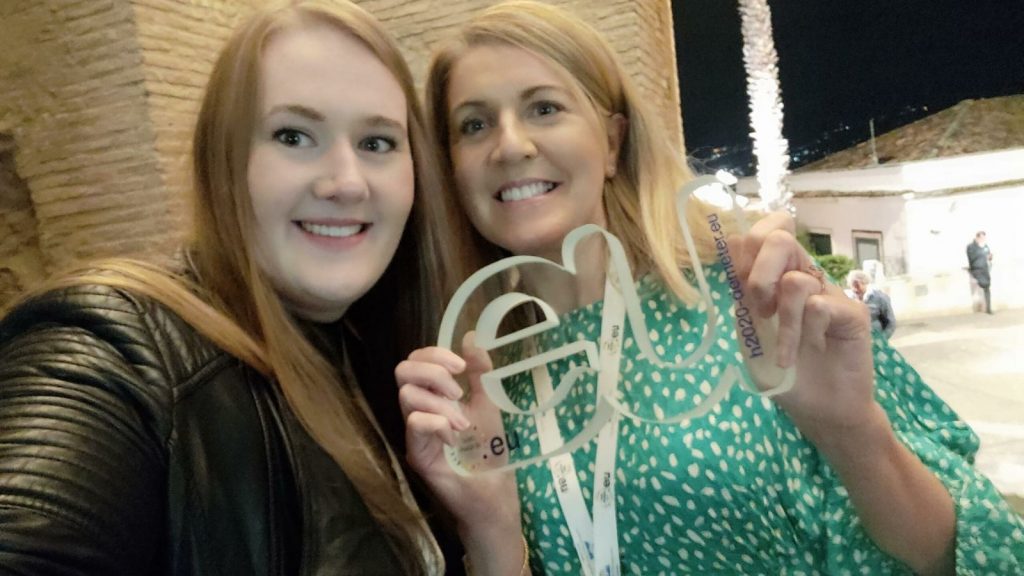 Grainne Dilleen is an Assistant Lecturer in Digital Marketing, South East Technological University, Ireland, and worked as Communication and Dissemination manager for DEMETER. 
Photo caption: Cheryl Baldwin and Grainne Dilleen at the 2021 .eu Web Awards
My PhD journey started in South East Technological University, Ireland in late 2019, funded by the DEMETER project. It is a quantitative study where I am examining the internal and external factors which influence farmers' intention to adopt Smart Farming Technology (SFT). In particular, I am looking at the role that trust in the technology provider plays as well as how the farmer's network influences the adoption decision. We know that the use of digital technologies and SFT are an important step in helping the agriculture sector become more sustainable across the three pillars: environmental, economic and social. As I read about the topic it became clear that if we are to encourage farmers to adopt these technologies, the first step is understanding their behaviour. The literature tells us that factors such as age, education, farm size and cost, impact the adoption decision, but the role of attitudes, motivations, and perceptions is not as clear. I hope that my research will help to fill this gap.
UNDERSTANDING FARMERS AND THEIR EXPERIENCES USING TECHNOLOGY
I am not from an agricultural background which I initially felt might be a stumbling block for my research. As a result, I felt it was important to familiarise myself with the language used by farmers and understand at least the basics across farming sectors such as dairy, beef, viticulture and tillage farming. I conducted a few open online courses to upskill, and I met with local farmers that I know, visited their farms and interviewed them early on to make sure I was as knowledgeable as I could be in the early stages. I also worked in the DEMETER project in a Marketing and Communications role, so this allowed me to reach more farmers who were happy to talk about their farming expertise and experiences when using technology. I always made it clear that I wasn't from an agricultural background so I might have to ask a few extra questions to make sure I fully understood what was being discussed. I think being transparent really helped as farmers were interested in understanding why I am researching the area and some even thanked me for taking an interest in their sector. I recorded any interviews that I conducted (with permission) and this gave me the opportunity to research areas that the farmer may have spoken about that I had limited knowledge on. It's very much a learning curve but the more papers and reports that I read, the more confident I have become in my knowledge and ability to interact with farmers. I've spoken at many conferences, delivered presentations to agricultural students and shared my research findings in various working groups. Reflecting on this as I approach my final year of the PhD, I can see how far I've come and how much I've learnt about both farming and SFT also.
Having a background in marketing and communication really helped with my approach to the research. Marketing starts with understanding who your target audience is, what drives them and what are their pain points and gain points. So, I approached my research in a similar way, trying to really understand the different types of farmers and what really drives them to adopt technology and what prevents them. Prior to conducting my survey, I conducted a series of interviews with farmers and also experts in the domain of SFT such as farm advisors, farmers' associations and technology providers. This uncovered really interesting insights which, alongside the literature, helped drive my research forward and form the basis for my survey.
FEMALE FARMERS AND SFT ADOPTION
One area I have become interested in during my PhD journey is better understanding female farmers and how the factors which influence their adoption of SFT may be different to male farmers. It was fascinating to uncover from previous research that the reasons that female farmers are less likely to adopt digital technologies is not due to gender per se, but rather gender-differentiated factors such as having less access to capital and land, societal land transfer practices and having more commitments outside the farm. I think its important that this is spotlighted, and increased supports are available to women to encourage further participation in the agriculture sector. Great work has been done in DEMETER, SmartAgriHubs and other European projects to progress this and I'm interested to see how the new Gender Alliance for Innovation in Agriculture initiative will help tackle some of these gender related issues.
I have to say that working as a female researcher in the agriculture space, I haven't experienced any discrimination or prejudice. Both male and female farmers that I have spoken to have been very helpful in sharing their stories and experiences. I have attended agricultural events such as the Ploughing Championships in Ireland and the predominately male-oriented audience were helpful and willing to engage. I know this is not everyone's experience but hopefully gender is become less of an issue in terms of opportunity and progression.
I'm now in the final year of my PhD and currently working on analysing the results from my survey. This is the exciting part for me as I get to tell the story from my research and discuss its implications for farmers, technology providers and government bodies.