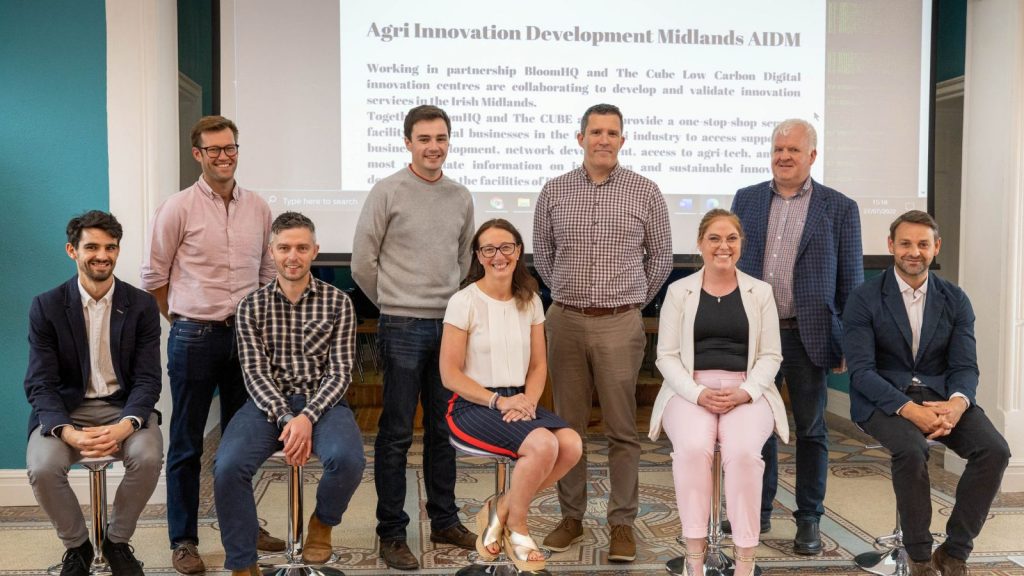 A new collaboration between Smart Agri Hubs (SAH), an EU funded project in Walton Institute, South East Technological University (SETU) in Ireland, The Cube, and BloomHQ has brought about the successful Agri-Innovation Development Midlands (AIDM) project. The initiative aimed to provide support and training to the farming community in the midlands region of Ireland, helping them to adopt new technologies and business practices.
We talked to Regina Dunne of Bloom HQ and AIDM project manager and asked her how she found out about Walton and her experience with the project.
"I found out about the Smart Agri Hubs project through Hazel Peavoy at Walton Institute and the AgTech research that was underway with Digital Innovation hubs as part of the project. We applied to an open call from SAH, to secure funding for our project which in turn allowed us to be able to identify the need for independent, accurate, and well-researched advice on technology, business support, and training for our local community.
ENGAGING WITH LOCAL INNOVATORS, FOOD PRODUCERS AND THE FARMING COMMUNITY
The AIDM project was able to build on the framework established by the previous projects within SAH. The funding from SAH helped immensely, supporting job creation, training, and service development. The project's success was largely due to the engagement of local innovators, food producers, and the farming community. The AIDM project provided the support and services that they needed, including training projects, live video streams, networking events, and farm walks."
The biggest challenge faced by the project was communicating to farmers that innovation in agriculture did not require vast amounts of investment, but rather just the time and willingness to engage with technology providers to consider the adoption of new technologies. Despite this challenge, the project was able to reach approximately 40 farmers and recorded over 120 feedback forms on their farming survey.
DEVELOPMENT OF AN INNOVATIVE FOREST FARMING PRACTICE
One of the biggest success stories of the project was the engagement with farmers on a community level. The project also supported the development of an innovative forest farming practice showcasing innovation in farming through a start-up business. As the project came to a close, the concept continued to grow, highlighting the potential for growth in agri-food production and agri-tourism initiatives.
The collaboration between Walton Institute, SAH and BloomHQ was successful due to their clear goals and effective communication with the participants. From the first Think Tank, the key finding was that time is precious for farmers, and any innovation that can free up time to give farmers a better work-life balance is important. The second Think Tank highlighted the need for further one-to-one drop-in clinics, where farmers could ask questions about funding privately rather than in a big group.