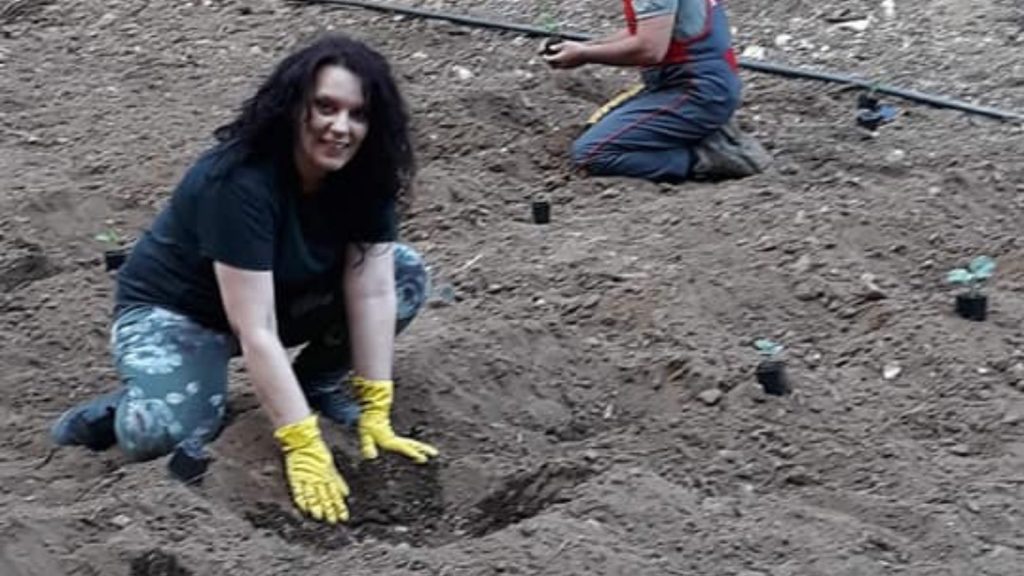 We asked Maria to tell us about her work in the Laboratory of Non-Parasitic Diseases, Soil Resources and Geoinformatics, her role in CypruSaves project, and her thoughts on the adoption of Smart Farming Technology by farmers.
CAN YOU TELL US A BIT ABOUT YOUR ORGANISATION AND YOUR INVOLVEMENT IN THE OPEN CALL 2 (OC2) PILOT FUNDED UNDER THE DEMETER PROJECT?
I am the Research Director in the Benaki Phytopathological Institute (BPI) and Head of the Laboratory of Non-Parasitic Diseases, Soil Resources and Geoinformatics. BPI is a legal entity and a research body supervised by the Ministry of Rural Development and Food in Greece. Since its foundation in 1929, BPI has developed a series of scientific activities and specialties to address the modern needs and requirements of the agricultural sector in Greece and in Europe.
The lab develops innovative approaches for soil protection against desertification in Mediterranean countries, sustainable use of resources in agriculture, minimisation of chemical inputs in major crops, identification of non-parasitic plant diseases, protection of the agricultural environment, management of agricultural waste, greenhouse gases reduction from agriculture, methodologies for GHGs estimation and measurement, water and waste footprint of agribusinesses. In addition, lab research is conducted in precision agriculture, remote sensing, monitoring of soils and crops with UAVs (drones), Geographical Information Systems (GIS) and geostatistical spatial analysis. The lab has substantial experience in platforms and digital tools design.
My involvement in the OC2 is in the areas of modelling and the development of the algorithms for water footprint estimation, as well as other digital services to vine farmers, e.g. plant enemies early detection, fertilization, etc. which will be provided by the CypruSaves platform.
WHAT TECHNOLOGY ARE YOU DEVELOPING AND HOW IS IT BEING USED BY FARMERS? 
CupruSaves works with farmers who cultivate grapes in Cyprus and will develop a platform to include DEMETER enablers conform to the particularities of the wine sector in Cyprus. The farmers will be provided with the appropriate tools (a platform and a mobile app) and knowledge to be in a position to 1) work with improved IT tools for field management, in terms of water, nutrients, pesticides and soil properties; 2) calculate the water requirements of their crops and develop the irrigation plan accordingly; (3) estimate the three components of the water footprint of all processes (green, blue and grey water); (4) combine and assess data gathered from sensors, meteorological stations, and project tools to properly adjust their practices; and (5) exploit communication features to share data, knowledge, information and practices between the members of their cluster and with external consultants, experts advisors, even with consumers/clients to prove their products quality and the level of production sustainability.
WHAT ARE FARMERS' BIGGEST CONCERNS WHEN ADOPTING DIGITAL TECHNOLOGIES? 
The biggest concerns for the farmers are the cost and their lack of skills in using agri-technologies. Implementing the technologies and understanding their outputs makes them nervous, along with the lack of control of operational costs when adopting the outputs of the new technologies. The majority of farmers prefer an agronomist to propose a solution and explain the impact the solution can have instead of trying to understand and implement a digital solution themselves.
WHAT ADVICE WOULD YOU GIVE A FARMER CONSIDERING ADOPTING TECHNOLOGY ON THEIR FARM? WHAT ARE THE BIGGEST DRIVERS IN ENCOURAGING FARMERS TO ADOPT DIGITAL TECHNOLOGIES?
Farmers are professionals who make their living from agriculture, both their job and their passion. A key motivational factor for farmers adopting technologies is to increase their income by, for example, reducing costs from fertilizers, water and materials. Farmers would also consider implementing technology on their farms if it provided a more sustainable approach to their livelihood and agriculture environment. Farmers are open to adopting new approaches for maintaining agricultural environment sustainably, however this will only be achieved if cost saving is at the forefront of technologies.
IF YOU COULD SHARE ONE PIECE OF ADVICE TO PROMOTE GENDER EQUALITY, WHAT WOULD IT BE? 
All genders must constantly fight for the position they deserve in the world and most importantly have confidence in themselves. We expect others to accept gender equality, but first and foremost we must not be afraid and assert ourselves with self-confidence.