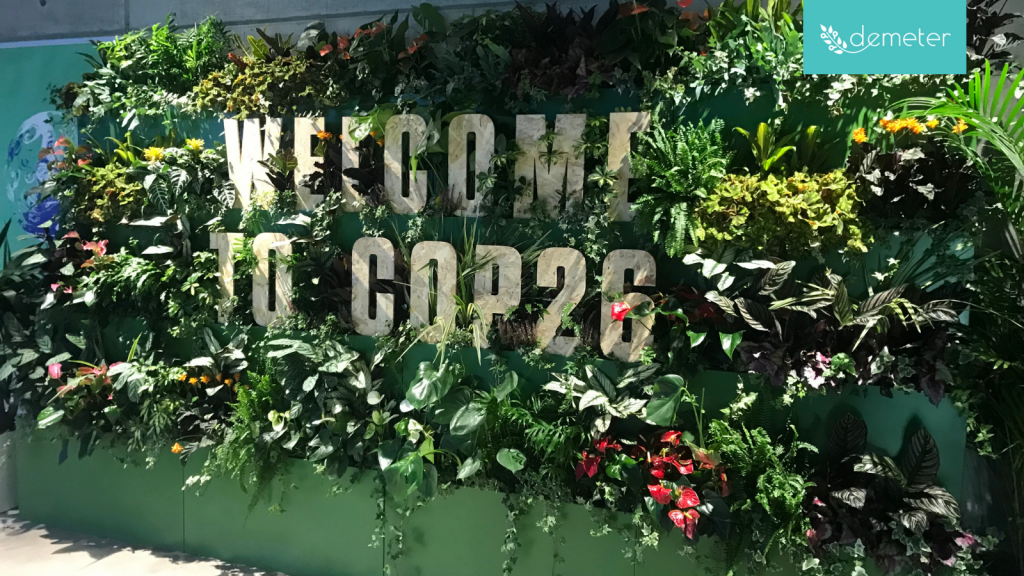 Introduction
On the 9th of November, DEMETER was excited to participate in COP26 with a one-day exhibition stand in the Green Zone. COP26 is the 26th United Nations Climate Change conference with the aim of bringing parties together to accelerate towards climate change action. The Green Zone at COP26 is where the public, civil society, Indigenous Peoples, youth groups, charities, academics, artists and businesses can share their activities and initiatives.
DEMETER at COP26
Gender was the key theme on the day that DEMETER exhibited, focused on addressing the ways in which women, girls and marginalised people are disproportionately impacted by climate change. Over 80% of displaced people from climate related disasters and changes around the world are women and girls. Science and Innovation was also explored by demonstrating some of the technologies that can contribute to improved sustainability and limiting the global temperature rise to 1.5C. DEMETER used this opportunity to share the project's objectives and results in terms of demonstrating the impact of digital innovations (IoT technologies, data science and smart farming) across a variety of farm types and sizes, as well as our commitment to gender equality in agriculture and agritech. Many of the pilot projects which focus on sustainability and reducing the use of water, energy, pesticides, and fertilisers were presented.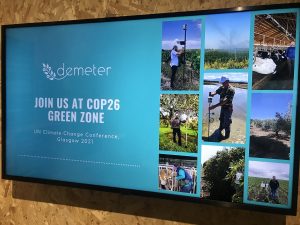 Sustainability focus
Our sustainability objectives in DEMETER relate to farm biodiversity, water efficiency, nutrient efficiency, pesticide efficiency and soil health. We aim to establish a benchmarking mechanism for agriculture solutions and business, targeting end-goals in terms of productivity and sustainability performance of farms, services, technologies, and practices based on a set of key performance indicators that are relevant to the farming community. For example, with nutrient efficiency we aim to understand the environmental impact and the efficiency of farm inputs and explore how these can contribute to  production and habitat conversation. In this regard, we focus on nitrogen use efficiency. In terms of water efficiency, we focus on irrigation water.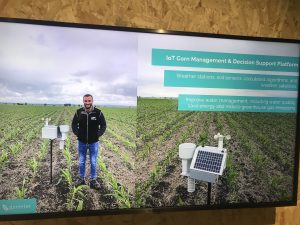 We presented an overview of our pilot clusters and pilot projects. For example, Pilot Cluster 1 focuses on an efficient water management system, improving the consumption of water and energy in irrigated arable crops. One pilot running in two irrigation community locations in Spain, uses interoperable, remote-control systems and robust management systems adapted to each particular condition. Inputs from soil sensors and meteorological stations, as well as satellite images optimise the irrigation system, resulting in considerable savings of water and energy. Another pilot focuses on the management and automation of rice and maize irrigation, along with nitrogen zonal fertilisation. Running in sites in Greece and Central Macedonia, the pilot provides a service for maximising water use efficiency through the deployment of sensor systems and science-based decision making. This results in water quality and quantity optimisation and nitrogen fertilisation savings, decreasing the carbon and environmental footprint of both crops.
Furthermore, we presented our "Disease Prediction and Supply Chain Transparency for Orchards/Vineyards" pilot which is running in orchards and vineyards in Serbia, Montenegro, Georgia and Slovenia.  One of the objectives is to minimize the ecological footprint and environmental impact of fruit and wine production. This is done through pest and disease prediction, spraying automation, irrigation optimisation and machinery monitoring. This leads to less pesticide usage, optimal water consumption, decreased leaching of nutrients, decreased soil degradation and better-quality crops.
We also spoke about our activities regarding Gender in Agritech, discussing our recent webinar with SmartAgriHubs on this topic and future initiatives to promote the importance of this topic.
Engaging with stakeholders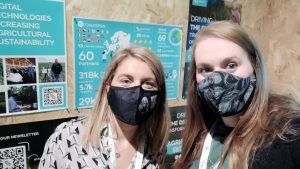 It was fantastic to speak to members of the public and industry providers about how digital technologies are helping to increase agricultural sustainability. There is so much interest in this space and a real appetite to learn more. We spoke to many students who are interested in broadening their knowledge of how various sectors are tackling climate change while we also spoke to some farmers who are interested to learn more about the technologies in DEMETER and the overall project's objectives. Many technology providers and developers outlined an interest to collaborate and share knowledge between projects and companies.
It also proved to be a great learning opportunity for DEMETER to hear more about other initiatives and activities in the farming sector. For example, we heard about the Virtual Irrigation Academy which is empowering irrigators through simple technology and people-centre learning. We learnt about Laavatech which is making indoor farming 3 times more efficient. Boortmalt explained how they are investing in more sustainability practices that increase biodiversity and allow for the sequestration of carbon in the soil during their malt production. We even heard about how large, closed loop farms are being developed to grow food and vaccines anywhere on Earth today and in Space tomorrow!
Next steps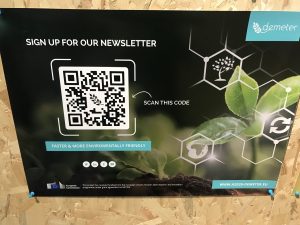 Participants at COP26 and indeed DEMETER recognise the need to transition towards more sustainable and climate-resilient food systems. Accelerated action and investment to move towards  more sustainable farming methods have been announced by 45 countries which is a major talking point. Alongside this, we must also consider gender equality and how women can participate actively in climate action. The work on sustainability in the agricultural sector and how DEMETER can help is ongoing. We will continue to shine a spotlight on how digital technologies can increase agricultural sustainability sharing examples from our pilots with tangible outcomes. We are working to create a productivity and sustainability benchmarking mechanism for agriculture solutions and business as outlined previously. We will also continue to share knowledge in this space and are committed to organising events and publications to continue the discussion.