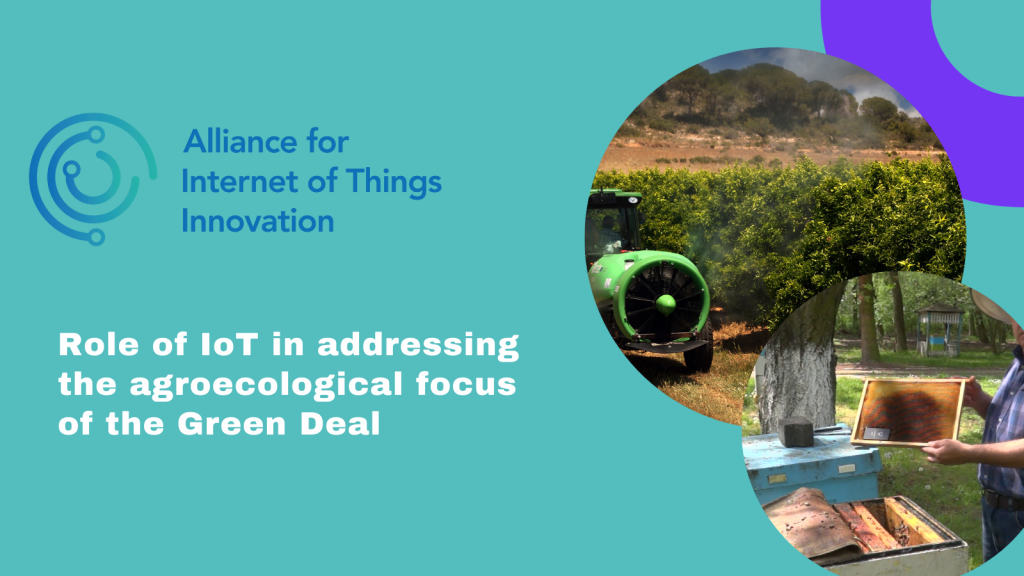 The Alliance for Internet of Things Innovation (AIOTI) has recently published a report titled 'Role of IoT in addressing the agroecological focus of the Green Deal'.  DEMETER featured in the report demonstrating use-cases of how IoT is an enabler of sustainable farming and agroecological practices in the Common Agricultural Policy.
As outlined in the report, the Green Deal is one of the largest flagship initiatives launched by the European Commission in the recent decades, setting the vision of an efficient, competitive and low-carbon economy.  Agriculture and food systems are key elements to achieve the ambitious objectives of the Green Deal, as clearly reflected by the Farm to Fork and Biodiversity strategies, both presented in 2020.
The DEMETER use case presented was 'Disease prediction and supply chain transparency for orchards/vineyards' running in Montenegro with project partners Plantaze, FED and DunavNET. The use of IoT-enabled spraying equipment can help to reduce the amount of pesticides used.  It can also document actual pesticide usage which can be linked to CAP payments.
The second use case 'Integrated Plant Protection and decision support systems' demonstrates how information provided through an IT platform gives farmers supports for a more sustainable use of pesticides. eDWIN, a national IT system in Poland for plant protection, will significantly affect the quality and quantity of food produced.  eDWIN also is integrated with the DEMETER Pollination pilot.  The main goal of this integration is to create and establish
the common platform for cooperation and to share important information between apiary owners using IoT Apiary Management systems and farmers. This functionality provides farmers with a tool to report a need  for pollination
Read the full report here.