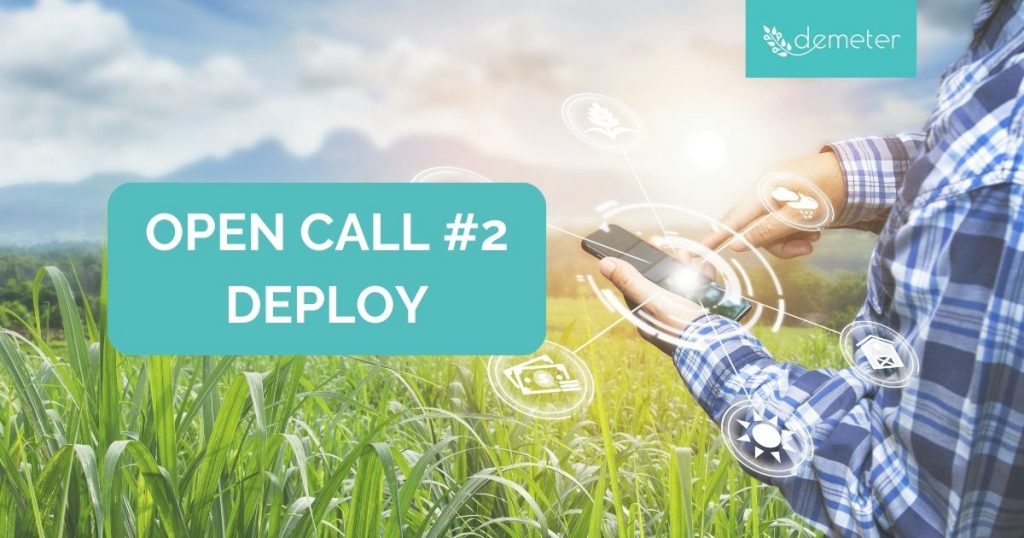 On Friday 16 June DEMETER hosted a webinar to showcase the results of the Open Call #2 DEPLOY pilots.
DEMETER included two open calls to extend its ecosystem and widen its impact. Open Call #2, DEPLOY, aimed to increase the outreach of the DEMETER value proposition by finding small consortia of 2-3 partners for the deployment of new, high-value pilots in the agri-food sector. These pilots focus on employing DEMETER methodologies and technologies, addressing clear farmer needs, with particular focus on EU geographic regions not currently represented within DEMETER pilots: Austria, Bulgaria, Croatia, Cyprus, Denmark, Estonia, France, Hungary, Lithuania, Luxembourg, Malta, the Netherlands, Slovakia and Sweden.
In total, 60 applications were received, and five pilots/proposals were selected to join the DEMETER project.
These five pilots have now concluded their activities with very interesting results.
Project Coordinator, Kevin Doolin, opened the session providing an overview of the DEMETER project and main results. Rita Campos from F6S introduced each of the five pilots before they presented their projects and achievements to date.
Watch the videos below now.
HEMS
Caitlin Chitu from Frontier Connect presented the HEMS pilot. HEMS aim to empower farmers by providing them with insights for a more sustainable and responsible use of herbicides.
"AIM is the best part of the DEMETER platform. It enables communication between the modules, making it very simple for any other company to use them." – Cailin Chitu
PENFA
Vassilis Pitsilis from Green Supply Chain presented the PENFA pilot. The challenge of PENFA project is to support decision making on pesticide use among agricultural producers. PENFA project aims to demonstrate a highly innovative and interoperable system that will be able to integrate data from the ambient environment of greenhouses with the diagnostic data.
"Integration with DEMETER has provided many benefits for us, especially interoperability, allowing us to export our data in a common model." – Vassilis Pitsilis
CypruSaves
Maria Doula from OMNIA presented the CypruSaves pilot. CypruSaves aims to address current and future water shortage and agricultural environment protection through sustainable manage of soil, nutrients, and pesticide use.
"Our main selling argument is having a tool specifically developed for 14 varieties of grapes in the west part of Cyprus." – Maria Doula
HarvestNow
Koen Uyttenhove from AgroPlus presented the HarvestNow pilot. The aim of the HarvestNow pilot is to help the huge potential of flax to be fully used, by helping the farmers in determining the best time window to harvest a specific field of hemp.
"We have a specific niche solution and some data is coming from other sources…DEMETER can help giving standardisation possibilities." – Koen Uyttenhove
GEM4GF
Stefano Coss from Arteria presented the GEM4GF pilot. The GEM4GF pilot aims at designing, installing, and operating an energy management/steering system within the energy community of farmers in Lassee, Austria.
"DEMETER has opened the possibility of addressing a wider audience, exchange technical information and learning from other pilots and getting more stakeholders involved." – Stefano Coss