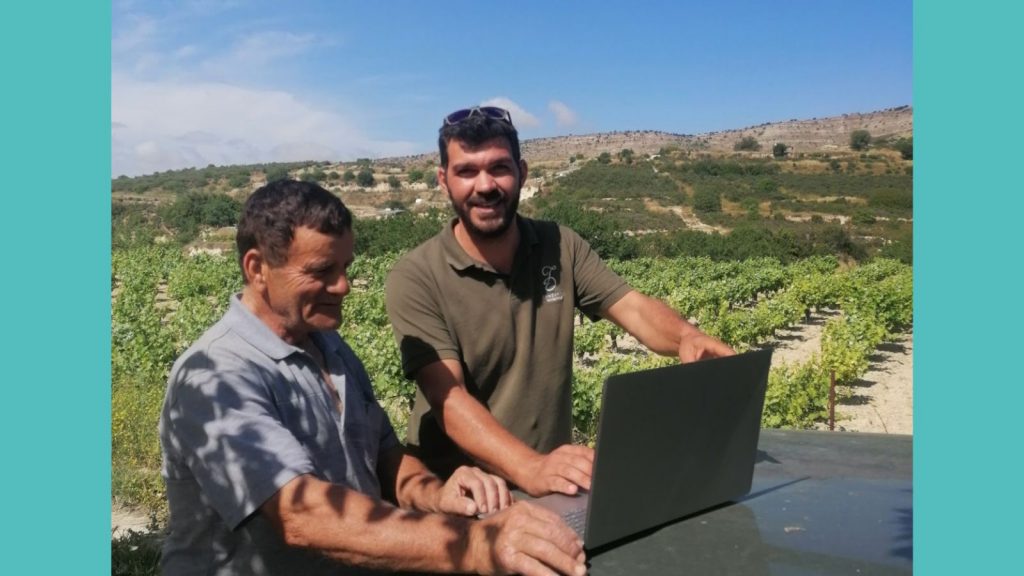 The CypruSaves (Tools for water-saving and field management of Cypriot vineyards) project was one of the five successful pilots chosen to join the DEMETER project as part of Open Call #2 DEPLOY.
The CypruSaves project deploys a high value and impactful pilot in Cyprus vineyards (Limassol & Paphos area) employing DEMETER methodologies and technologies aiming to address farmers' needs related to water and field management. The project motivates farmers and stakeholders of the sector, through a multi-actor approach using modern technology and tools, like thοse provided by DEMETER, addressing current and future water shortages, and manages their cultivation in terms of soil, yield, nutrients, and pesticide use.
The end-users are provided with online tools and knowledge to be in a position to:
work with improved IT tools for field management, in terms of water, nutrients, pesticides and soil properties
calculate the water requirements of their crops and develop the irrigation plan accordingly
estimate the three components of the water footprint of all processes (green, blue and grey water)
combine and assess data gathered from sensors, meteorological stations, and project tools to properly adjust their practices
exploit tools' communication features to share data, knowledge, information and practices between stakeholders to prove the products' quality and the level of sustainability
We spoke with Christodoulos Karaolis from Zambartas Wineries about his work on the CypruSaves project and the drivers and barriers to the adoption of digital technologies on farms.
Zambartas Wineries is in Limassol and has its own vineyards, however the company is constantly cooperating with farmers from the entire country. Their own and cooperating vineyards cover a total of 160.000m2 and the mean annual production reaches 128.000 wine bottles, which are directed mainly in the Cypriot market (94% of the production) however the winery exports also in EU and internationally (6%).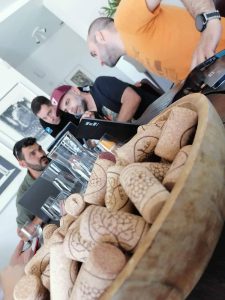 How did you get involved in the DEMETER project?
We were informed about the program by OMNIA, and after we met and they told us the goals of this program, we said that we want to participate in an innovation program that concerns vineyard cultivation in Cyprus.
Can you outline the technology you develop for the agri sector and the benefits they provide?
What we do is essentially processing the data collected by various sensors provided to us by the program. Since it is the first time such a thing has been done in the Cypriot viticulture sector, the benefits are manifold. Firstly, we have meteorological data for most of the vineyard areas on the island, which helps us deal with pests and diseases. Additionally, we can monitor the phenological development of the vineyards, and all of this can be done from our computer or mobile device.
What technology are you using as part of the DEMETER project?
The application on our mobile or computer device.
What changes have you seen in farming in the last decade?
What we have certainly observed is the change in weather conditions on our island, characterized by prolonged heatwaves in both summer and winter, and a decrease in the number of rainfall events. However, when it does rain, the rainfall is more intense.
In your opinion, what are the biggest drivers in encouraging farmers to adopt digital technologies?
Facilitation in the production process and timely detection of any problems during the cultivation period. This is expressed in an increase in the quality of the produced product due to targeted interventions and a reduction in the use of pesticides and fertilizers.
What are farmers' biggest concerns when adopting digital technologies?
The biggest obstacle we encounter is that most vine growers in Cyprus are elderly and not familiar with digital technology.
What support and added value did you receive from DEMETER?
The greatest support we have received is that a program has been specifically designed for our needs, and for this reason, we are very happy because we now have a tireless ally who advises us at every moment.
What advice would you give other farmers considering adopting technologies on their farms?
They should adopt these technologies as soon as possible because it is a tool whose possibilities are essentially limitless.
What are the next steps for you in terms of exploiting the technology developed or adopted?
Now that we have a solid foundation to start with, we will strive to continuously improve these technologies with our partners, who are now also friends. The benefits of these technologies are not only for us but for viticulture in Cyprus as a whole.