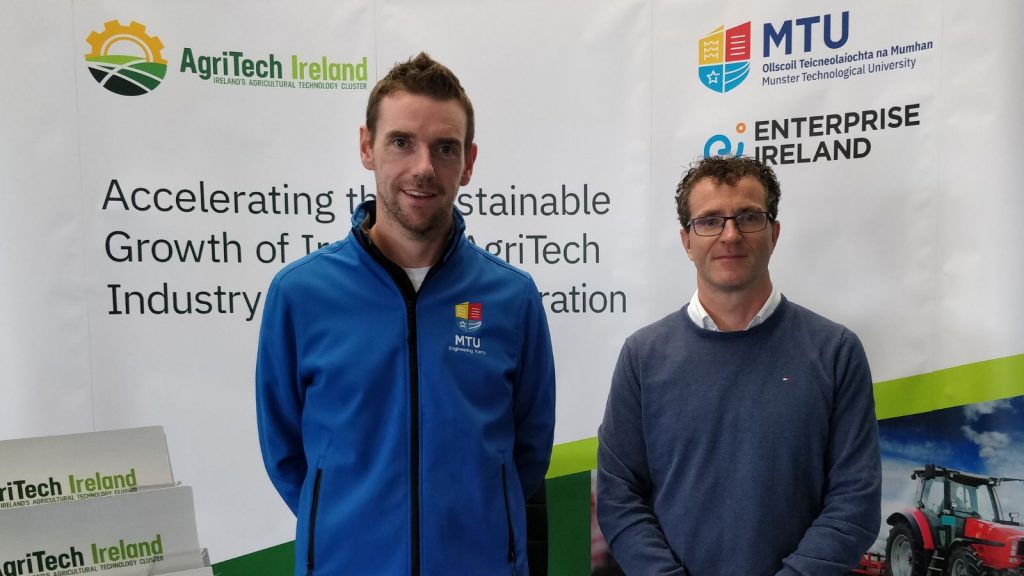 AgriTech Cluster wants to hear from companies in the sector who want to grow in the AgriTech space.
Two projects funded by EU Project SmartAgriHubs are having a massive impact on the ground and showcasing Munster Technological University, Tralee, Kerry in Ireland, and its partners' success in a drive to double the jobs potential of the AgriTech sector and help enterprises in the region grow and achieve their potential.
Ireland's AgriTech sector is growing year on year and the country has the potential to be a major international player and compete with the UK, New Zealand and Israel. Yet Ireland only has two or three large-scale companies, a further 150 or so medium-sized and the remainder, while small, have massive potential if they cluster, can overcome labour challenges and invest in automation, according to AgriTech Cluster Educational Outreach Manager (EOM) Kieran O'Donoghue.
Their nine month-long 'Process Optimiser Project' has been such a success that it is now a sustainable support and a paid offering and AgriTech firms in the region are flocking to it for process improvement, waste identifying, future processes mapping supports and more.
Funding for their six month-long 'Agri Team Innovator' programme has also been put to excellent use and it has more than delivered on its mission to stimulate significant R&D innovation in agricultural technology.
Kieran O'Donoghue says they're very proud of the metrics, of the collaboration that has taken place, the momentum that continues to grow and admitted that none of it would have been possible without SmartAgriHubs funding for AgriTech Ireland.
"Even with the best will in the world, there is no hope we could have achieved what we have without the SmartAgriHubs finance. The funding provided allowed me to bring in lecturers needed for the Process Optimiser Project. It allowed us to develop and deliver the services that linked academics with industry.
"We came together in workshops on value stream mapping, waste identifying and mapping for future processes etc. in a blend of theory, education and practical projects. It has been so successful that it is running since as a paid offering.
"We also linked in with the local Technology Gateway on Agri Team Innovator to stimulate more research and development and innovation in AgriTech. We offered a series of workshops, to brainstorm ideas for new products, services and features such as robotics, digitisation and more. We then helped these companies to connect with the most appropriate funding mechanisms.
"Many connected with Enterprise Ireland and availed of Innovation Vouchers. Two innovation partnerships were born. It all resulted in a huge stimulation of R&D activity. The companies loved it and we hope to wrap it into an innovation voucher offering for the future to make it sustainable."
The outcomes speak for themselves. In all, 11 project teams were involved in the Process Optimiser Project. Seven agri-tech SMEs participated, and 19 employees of participating firms achieved Level 8 accreditation. The Agri Team Innovator was equally successful in stimulating innovation ideas and collaboration, and connecting SMEs with research providers and helping them organise their ideas. The project included 25 one on one workshops with SMEs. Of the 10 project ideas that emerged, six were successful in gaining funding approval.
"We're very proud of what we have achieved. I'm proudest of the collaborative effect the workshops have had, the open discussions that have taken place and the processes which have been implemented to improve so many experiences. Research and Development has been key. We're continuing to plan events to bring the wider group together. We now have 30 signed up members. It's important to bring together the industry, the knowledge providers, government agencies and the communities to continue to drive innovation.
"We're running a tax credits workshop in February, celebrating the Month of Innovation and Enterprise in March. The Process Optimiser programme ends in February and we will start a new one in March. This is a great space to be in and we need to keep the wheels going."
Ireland is in a strong position to produce the next Dairymaster or the next McHales, he believes. "We have a strong agricultural base, a very well-educated workforce and great infrastructure. We are in a great position to drive on and get companies to get the best out of the services available to accelerate the sustainable growth of the agri tech industry here.
"The big challenge they will face is labour. AgriTech is different to med tech or pharma. We have less people now with traditional skills and trades such as welding.  We need to invest in automation. This is a key area of investment if we are to achieve growth. Agencies such as Enterprise Ireland have great supports for the sector. We're anxious to work with companies who want to cluster, want to grow.
"Ireland's AgriTech sector currently employs over 3,000 people and has a turnover of €900 million. The target is to double these numbers by 2030. Working together we can achieve this. We want to hear from companies in the sector who want to grow, who provide a produce or a service in the AgriTech space, companies supplying products to farmers. The supports and help are there – it's just about working together to access them and benefit from them."