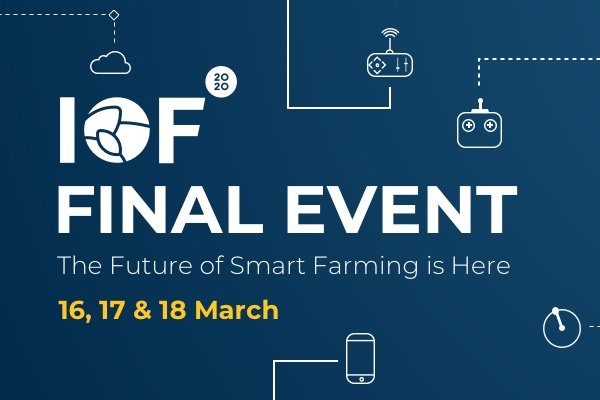 François Lienard, IoF2020 Ecosystem Development, Schuttelaar & Partners International.
---
IoF2020 recently held its final event that lasted three days and was filled with over 40 presentations and sessions showing the various trials and tribulations faced by the project. With over 500 visitors, 35 interactive booths, 120 speakers and guests the event was a great success.
The first day was centred around state-of-the-art technology. IoF2020 had 33 uses cases that each developed and implemented new IoT solutions for farming. Of course, issues were faced and problems had to be solved along the way. We saw that IoF2020 has made big strides in input efficiency. Especially in natural resource saving and animal welfare, when looking to the future, lowing the use of water, pesticides and other resources is crucial in creating a sustainable tomorrow. An additional unexpected and positive result that came forward was the attention and focus on auditing and certification within the projects.
Overall, the first day really showed how much Internet of Things (IoT) in combination with agriculture can help humanity forward towards a sustainable future.
Moving forward, day 2 had a look at what the impact was of IoF2020 as well as the lessons learned during the research for the project. One great example was the Value Sensitive Design (VSD) tool that allows agri tech companies to take the right steps to ensure they are taking aboard all the necessary views and values needed to create an ethical and good product.
Of course, not every project or design process is perfect, and humanity needs to learn from its failures. This was also addressed in a separate session which gave insight into the need to analyse and share experiences learned from mistakes and failures. Researchers and technical experts openly discussed bottlenecks in current models, had thorough risk assessment and shared their methods to adapt cases when needed to strengthen them. The day ended with a focus on gender inclusiveness, with a discussion on the impact and presence of women in agriculture and technology.
Taking stock of all the achievements, the final day had a focus on the future. Here IoF2020 looked at its heritage and shared its policy recommendations for digitalization of agriculture with EU policy makers as well as upcoming open calls and new possible collaborations. The SmartAgriHubs Innovation Portal (https://www.smartagrihubs.eu/) being one of the key tools that will allow members to see the latest news, stay up to date on new open calls, dive into shared documents and data shared by users or look at and get in touch with the numerous Digital Innovation Hubs across Europe. As shown during the session, the portal has experienced a strong increase in users and expanded the available network significantly.
IoF2020 may be over, however it is merely the start for more innovations and exciting discoveries. Now it is time to thank all the participants of this amazing project and look forward to new possible collaborations and cooperation's. All the sessions have been recorded and you can access the videos by simply clicking on the session title in the programme (https://iof2020.h5mag.com/iof2020_programme_final_event/cover).