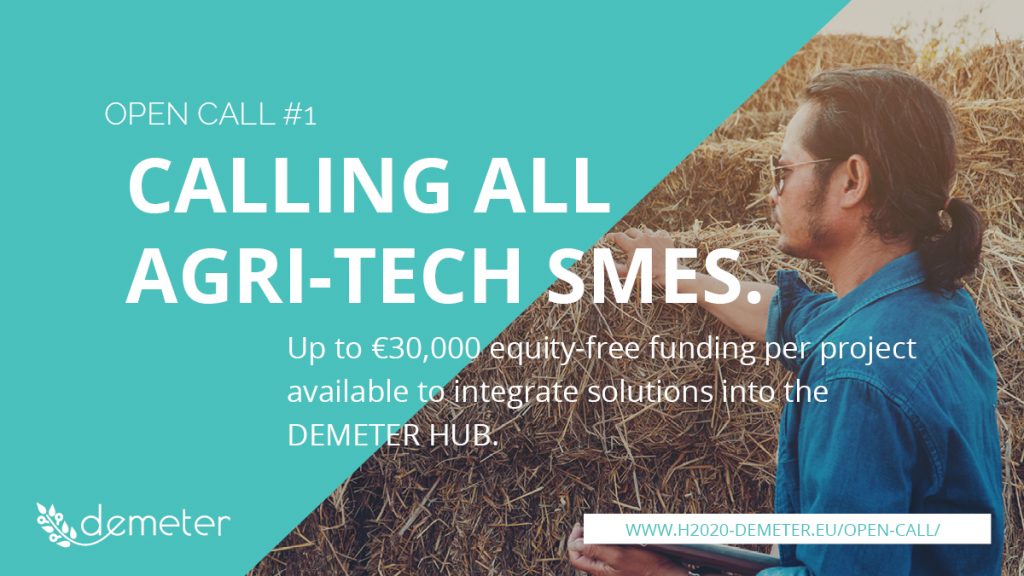 The Horizon 2020 project, DEMETER, has announced the launch of its 1st Open Call, DEVELOP on 16th September, with a total budget of €300,000 available to SMEs.   DEMETER aims to lead the digital transformation of Europe's agri-food sector through the rapid adoption of advanced Internet of Things (IoT) technologies, data science and smart farming ensuring the industry's long-term viability and sustainability.
DEVELOP, the first of two Open Calls in the DEMETER project, aims to attract and engage start-ups and SMEs with technology products that can be implemented within the agro-business sector. DEMETER will provide equity-free funding to support the integration and interoperability of these technology solutions into the DEMETER Hub. The DEMETER Hub centralises the full description of all the components, devices, services, data sources, platforms that are accessible for deployment. The successful solutions funded within this Open Call will enlarge and enrich the pool of technology offers and options within DEMETER.  This will enable the co-creation of particular solutions to overcome end-users' needs and challenges. The proposed projects should be built on the DEMETER platform and extend the use cases carried out within the project.  Twenty pilot projects are currently running in DEMETER to demonstrate and evaluate how innovations and extended capabilities benefit from the interoperability mechanisms.  These pilots cover a wide spectrum of sub-sectors: arable crops, irrigated crops, fruit production and livestock (poultry, dairy, animal welfare). Eight to twelve applications are expected to be funded in the Open Call with up to €30,000 per solution.
Applications for the first of the DEMETER Open Calls must address one of the following challenges:
Topic 1: Soil workability and humidity monitoring
Topic 2: Interoperable Geo Tagged Photo APP
Topic 3: ISOBUS enabler
Topic 4: Blockchain-based solutions for agricultural applications
Topic 5: DEMETER Business process integration
SMEs and start-ups who are legally established and based in one of the EU Member States or an H2020 associated country (as defined in the H2020 rules of participation) are welcome to apply.
The DEVELOP Open Call opens on 16th of September 2020 and closes on the 18th of November 2020 (17.00 CET).
More information on the Open Calls and how to apply is available at https://h2020-demeter.eu/open-call/. Applications can be made via the F6S platform at https://www.f6s.com/demeterh2020/apply