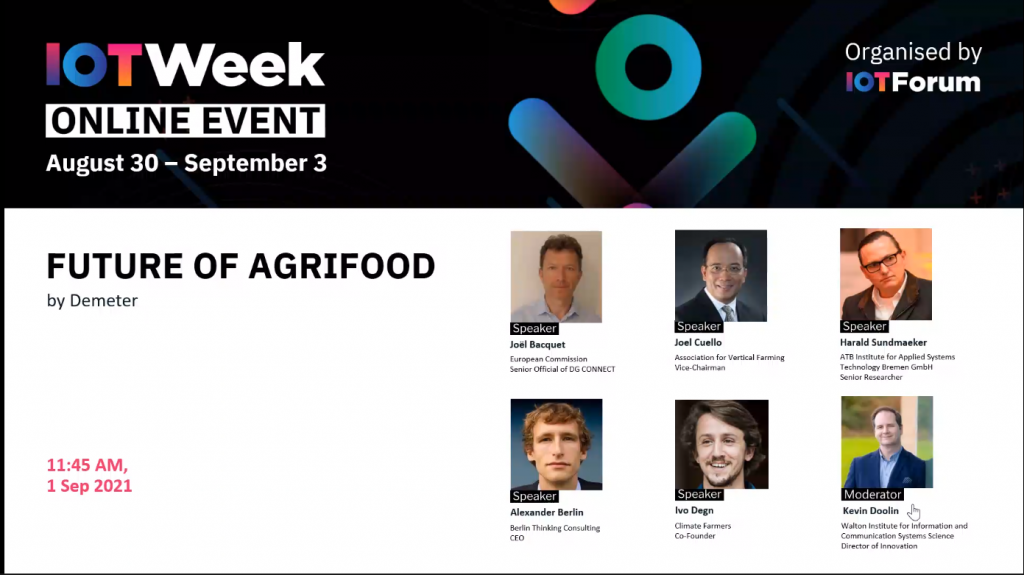 IoT Week is a 5-day conference where leaders from the worlds of business, tech and science shed light on the future of technology and its impact on business and life. On September 1st, 2021, two sessions ran which were dedicated to digital agriculture and moderated by DEMETER project coordinator, Kevin Doolin.
The agriculture sector faces many pressing challenges such as food security and reducing the use of inputs – fertilizers, pesticides and, indeed, water and energy. The arrival of IoT technology is completely redefining everything, from food production to the relationship between producers and consumers. The first agri-related session 'The Future of Agrifood' in IoTWeek2021, focused on learning how IoT is making the industry smarter, safer, more sustainable, and more competitive through the power of data collection and analysis.
Session1: Future of AgriFood
The first speaker was Joel Bacquet, Senior Official of DG CONNECT at European Commission who outlined how digitisation is helping agriculture become greener. The Farm to Fork strategy sets out a roadmap to build a sustainable EU food system with ambitious targets.

DG Connect is supporting the sector through research, innovation, deployments, and infrastructure. The new Digital Europe Programme will provide strategic funding supporting projects in five key capacity areas: supercomputing, artificial intelligence, cybersecurity, advanced digital skills and ensuring a wide use of digital technologies across the economy and society. In particular, the development of a common European Agriculture data space is a priority, to facilitate data sharing and ensuring interoperability.
Next, Harald Sundmaeker of ATB (Institute for Applied Systems Technology Bremen GmbH) discussed the challenge of developing and ensuring a positive uptake of digital innovations without a thorough knowledge and experience about agri-food expert knowledge, available solutions, costs, benefits, and potential pitfalls. Different scenarios for IoT farming already exist for all aspects of farming and actors in the supply chain, but we need to share knowledge to speed up solution development, ensuring governance and trust are central to the process. Harald presented SmartAgriHubs (SAH), a €20M EU project under the Horizon 2020 instrument, which facilitates and helps stakeholders to push innovation and digital transformation.  Central to the success of SAH are Digital Innovation Hubs (DIH), public-private partnerships for innovation, that aim to make businesses more competitive by speeding up the development and uptake of digital innovations. Several Open Calls are running in SAH to support the set up and realization of innovation activities.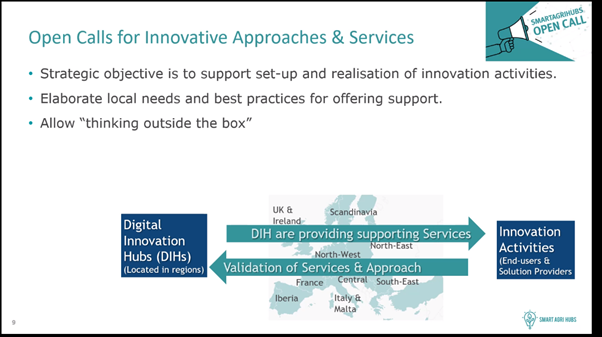 The next speaker was Ivo Degn, the co-founder of Climate Farmers who discussed the importance of regenerative agriculture and the need to build the necessary infrastructure to support its growth in Europe. Ivo talked about the necessity for outcome-based incentivisation of farmers for a regenerative and climate-positive agricultural sector. IoT technology and satellite technology are already helping regenerative farming by assessing and quantifying the ecological impacts of agriculture.  In addition, through bottom-up innovation, Ivo outlined how we can harness innovation coming from farmers to further promote regenerative agriculture.
Alexander Berlin, CEO of Berlin Thinking Consulting was up next and discussed how IoT can leverage transformation, based on findings from IoF2020. Alexander presented several of the IoF2020 use cases, demonstrating how there is massive potential in IoT use on-farms, from reducing water and fertilizer use to improving plant protection. He also mentioned the H2020 project ATLAS which is building on the IoF2020 work on connected farm machines and connected data. ATLAS aims to build an open, distributed and extensible data Interoperability Network, based on a service-oriented architecture which will offer a high level of scalability from a single farm to a global community. Alexander also spoke about the need to bring innovation actors and networks together, streamlining the activities and the important role of SmartAgriHubs.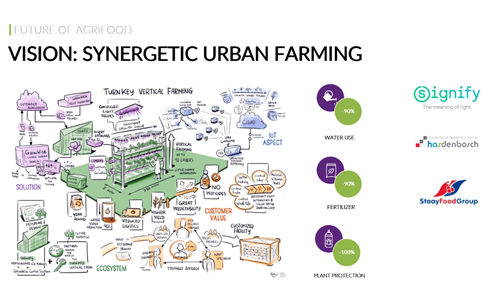 The final speaker of the morning session was Joel Cuello, Vice Chair of the Association for Vertical Farming who outlined how vertical farming has the potential to transform the agriculture sector.  However, one of the key challenges is the need to innovate. IoT technology has now resulted in three paradigms of Vertical Farming:
Network vertical farming: This is a distributed modular farm where operators can remotely regulate the environment in growth chambers. This promotes sustainability, saving on water, and fertilizers and has become popular in cities around the world.
Mobile vertical farm: This is where robotics and automation are deployed to remotely control the farm.
Sustainable vertical farm: This is where renewable energy such as solar or wind or indeed renewable natural gas such as waste biomass is used to power the vertical farm.
An interesting Q&A session followed discussing the need for energy efficiency in farming, understanding what a common agricultural data space might look like, highlighting the importance of getting feedback from farmers and promoting the need for transparency from all actors in the agri-food chain.
Session2: Digital Agriculture
The second session on agriculture in IoTWeek 2021 focused on 'Digital Agriculture'. Digital technologies are both defining the present and the future of agriculture. The extensive deployment of IoT devices provides access to an important amount of data that can support agriculture, not only across all levels of production, but also at the decision-making level. Nevertheless, several challenges exist such as the digital divide, encouraging farmer adoption of technology, data ownership and usage concerns, data sharing concerns,  connectivity problems and lack of interoperability. This session was again moderated by Kevin Doolin of Walton Institute and DEMETER project coordinator.
First, Srdjan Krco of DunavNET introduced the DEMETER project and shared details of some of the pilot activities ongoing within the project. In particular, he focused on 2 pilots 'Transparent Supply Chain in the Poultry Industry' and 'Optimal Chicken Farm Management' which aim to create a transparent supply chain sharing information about the products.  Srdjan shared very insightful lessons learned from both the farmer perspective and the technology provider. The full presentation is available on SlideShare.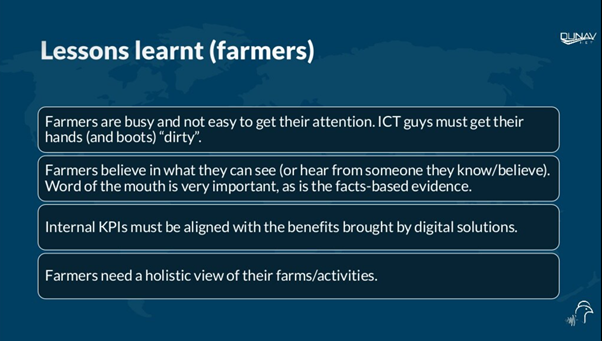 Next, George Beers of Wageningen University & Research spoke about IoF2020 and the lessons learned from the project particularly in terms of standardisation and interoperability, re-usability, the need for new business models and the importance of trust (ethics and a code of conduct). George also discussed the need for access to funding and sustaining the results seen in large scale projects.  The deliverables from IoF2020 were presented and George outlined how although the project has ended, its legacy is available through the SmartAgriHubs portal.
The final speaker of the afternoon session was Latif Ladid, Founder and President of IPv6 Forum. Latif spoke about how blockchain technology can help digital agriculture and outlined one of the pilots running in Cities2030 which provides traceability in the supply chain
This session finished with Questions & Answers from attendees, which centred on the cost of blockchain technologies, how to make the data stored on the blockchain interoperable and the need for business models.
For more information on any of the topics raised, please contact us at info@h2020-demeter.eu