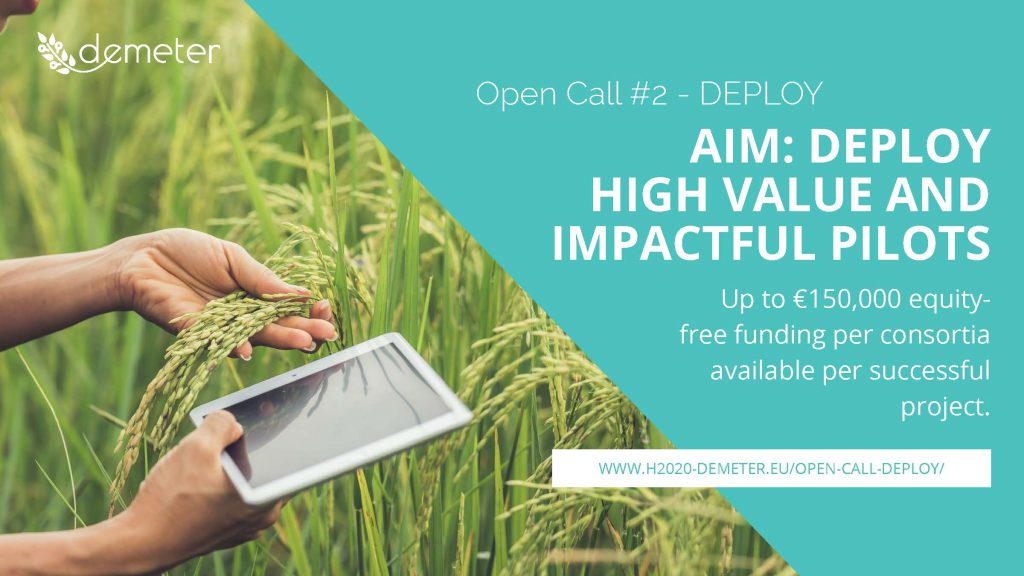 The Horizon 2020 project, DEMETER, has announced the launch of its 2nd Open Call, DEPLOY, with a total budget of €740,000 available. DEMETER aims to lead the digital transformation of Europe's agri-food sector through the rapid adoption of advanced Internet of Things (IoT) technologies, data science and smart farming ensuring the industry's long-term viability and sustainability.
The DEMETER Open Call #2 – DEPLOY aims to increase the outreach of the DEMETER value proposition by funding small consortia of 2-3 partners for the deployment of new, high-value pilots in the agri-food sector. These pilots will focus on employing DEMETER methodologies and technologies, addressing clear farmer needs, with particular focus on EU geographic regions not currently represented within DEMETER pilots: Austria, Bulgaria, Croatia, Cyprus, Denmark, Estonia, France, Hungary, Lithuania, Luxembourg, Malta, Netherlands, Slovakia and Sweden. This will expand the technological and/or business coverage of the project, towards digitalising and boosting the European agrobusiness sector.
Twenty pilot projects are currently running in DEMETER to demonstrate and evaluate how innovations and extended capabilities benefit from the interoperability mechanisms. A wide spectrum of sub-sectors: arable crops, irrigated crops, fruit production and livestock (poultry, dairy, animal welfare) are covered. These pilots can used as an example for potential applicants to develop similar or different pilots to be funded under DEPLOY.
The new pilots to be funded under the DEMETER Open Call #2 – DEPLOY must address specific farmers' needs and fit into one or more DEMETER challenges and objectives.
| | |
| --- | --- |
| DEMETER Challenges | DEMETER Objectives |
| 1.     Control of Knowledge | 1. Information Modelling |
| 2.     Deployment Models | 2. Knowledge Exchange Mechanisms |
| 3.     Optimal Data Analysis | 3. Data Ownership |
| 4.     Overcoming Market Barriers | 4. Benchmarking |
| 5.     Interoperability | 5. User Orientated Solutions |
| | 6. Real World Impact |
Open Call #2 – DEPLOY will fund consortia composed of two or three:
micro, small, and medium-sized enterprises (SMEs),
secondary and higher education establishments, research institutes and other not-for profit research entities.
The Open Call opens on 14th December 2021 and closes on the 16th  February 2022 at (17.00 CET).
More information on DEPLOY and how to apply is available at www.h2020-demeter.eu/open-call-deploy. Applications can be made via the F6S platform at www.f6s.com/demeter-open-call-2-deploy/apply
Download the Guidelines for Applicants (Annex 2)
About DEMETER
DEMETER aims to lead the digital transformation of Europe's agri-food sector through the rapid adoption of advanced IoT technologies, data science and smart farming, ensuring its long-term viability and sustainability. The project seeks to create a secure and sustainable European IoT Technology and business ecosystem. DEMETER will demonstrate the real-life potential of advanced, standards-based, interoperability between IoT technology by adapting and extending existing standards into an overarching Agricultural Information Model.
Website |Email | Twitter | Facebook | LinkedIn |
Project Coordinator:  Kevin Doolin at Walton Institute
For additional information on the DEMETER Open Calls, please contact Miguel Goncalves at opencalls@h2020-demeter.eu
About F6S
F6S is the world's largest platform for founders with over 1.5 million start-ups/SMEs and 2.0 million entrepreneurs. F6S enables founders to interact with investors, accelerators/incubators, products/tools and talent on the platform to grow together.