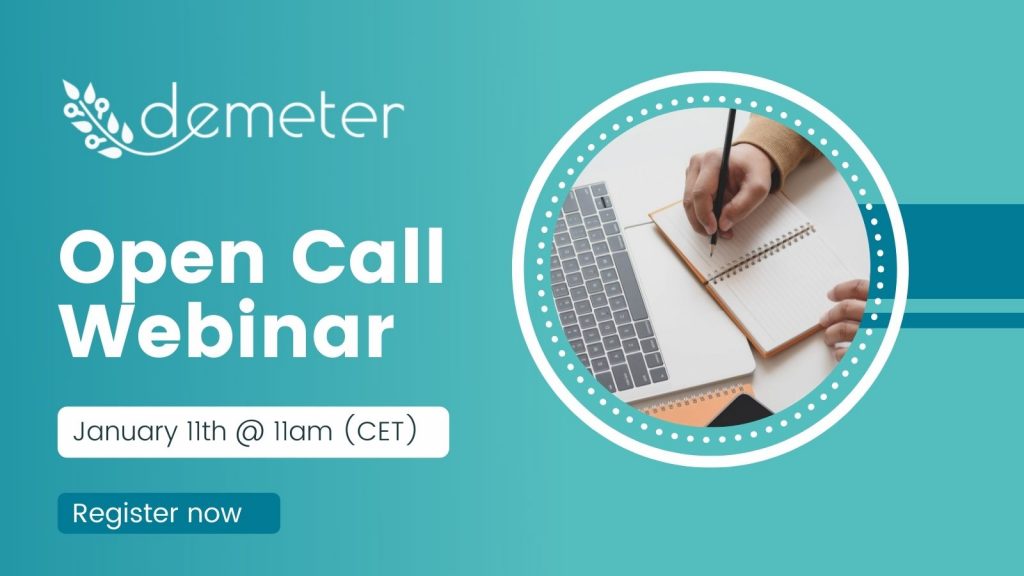 The DEMETER project has launched its second open call, DEPLOY, to fund the deployment of new pilots in the agri-food sector, offering grants up to EUR 150.000 (equity-free).
DEPLOY aims to increase the outreach of the DEMETER value proposition by funding small consortia of 2-3 partners for the deployment of new, high-value pilots in the agri-food sector. These pilots will focus on employing DEMETER methodologies and technologies, addressing clear farmer needs, with particular focus on EU geographic regions not currently represented within DEMETER pilots: Austria, Bulgaria, Croatia, Cyprus, Denmark, Estonia, France, Hungary, Lithuania, Luxembourg, Malta, Netherlands, Slovakia and Sweden. This will expand the technological and/or business coverage of the project, towards digitalising and boosting the European agro-business sector.
Join the DEMETER Open Call #2 – DEPLOY Webinar to learn everything you need to submit a successful application: open call goals, eligibility criteria, application form, required documents, evaluation process, technical offering, benefits, etc.
We'll be answering all your burning questions in the Q&A section of the webinar.
11th January 2022
11am (CET)
Register now and join us!  https://www.f6s.com/demeter-open-call-2-deploy-webinar/about