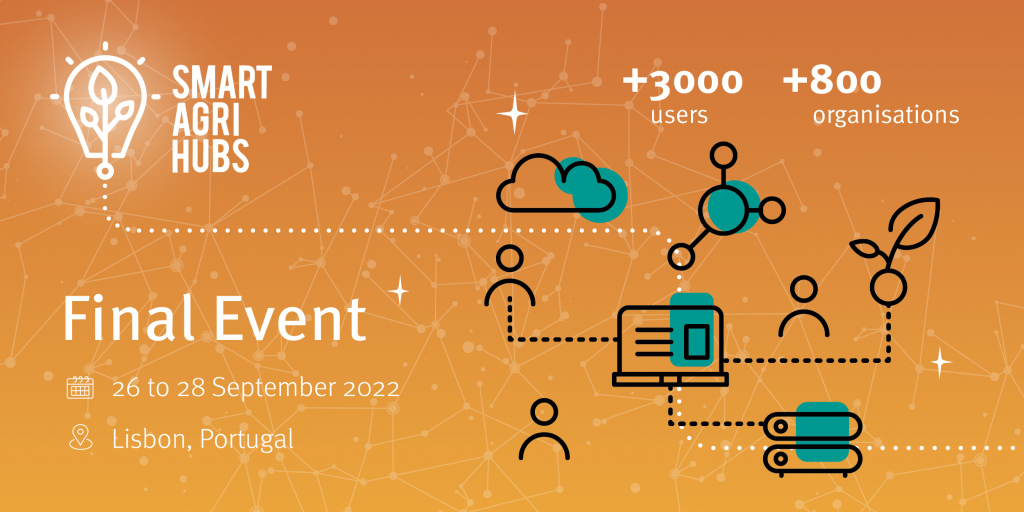 On 26 to 28 September, Horizon 2020 EU project SmartAgriHubs celebrated its final event in Lisbon. After four years, the SmartAgriHubs community reunited to discuss the achievements, lessons learned and the sustainability of the project. The Synergy Days, 27th and 28th September, were opened to 20 other EU projects, connecting SmartAgriHubs to the wider European agri-tech network.
Digital Innovation Hubs and agriculture
In the current international context, food security, traceability and sustainability are more important than ever. To support the transition towards more efficient, inclusive and resilient food systems, innovation is crucial.
SmartAgriHubs is a project dedicated to foster a European agricultural innovation ecosystem, through a multi-stakeholder approach. The development and adoption of digital solutions is achieved by a tight ecosystem of 140 Digital Innovation Hubs embedded within nine Regional Clusters, which are led by organisations that are closely involved in regional digitisation initiatives and funds.
Digital Innovation Hubs are one-stop-shops that help companies to become more competitive with regard to their business/production processes, products or services using digital technologies. They provide access to the latest knowledge, expertise and technology to the project they support, through prototyping, incubator, testing, financing and business services. The European Commission dedicated €500million over the next 5 years from Horizon 2020 budget to support the development of DIHs. It is the Commission's ambition that all companies should have a DIH within their region.
In agritech and agriculture, Digital Innovation Hubs help connecting the end-users from the farming community, with technology experts and SMEs.
In addition, the network of Digital Innovation Hubs is supported by 2000 Competence Centers and 28 Flagship Innovation Experiments.
A thriving ecosystem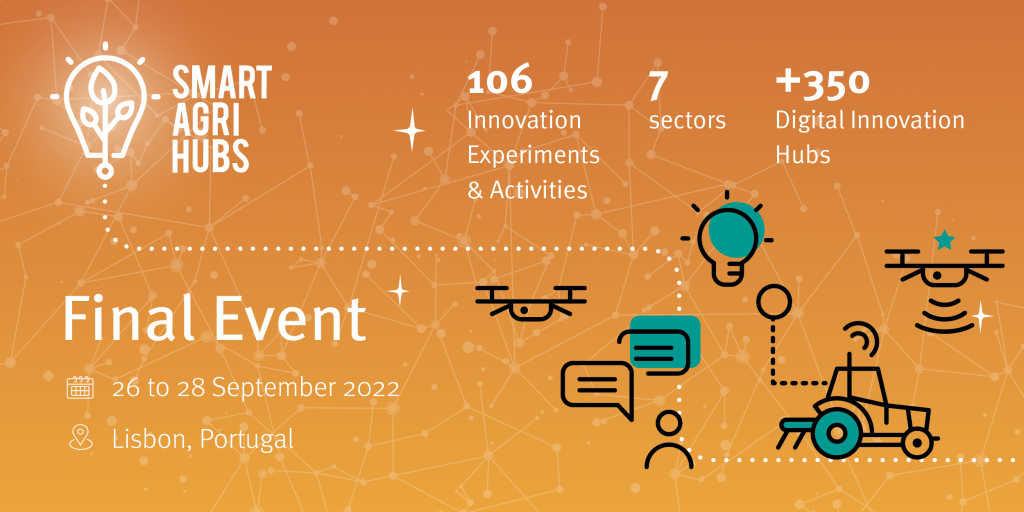 Over the past 4 years, the SmartAgriHubs community has grown into a thriving ecosystem of over:
+3400 users on our Innovation Portal
+104 Innovation Experiments
+350 Digital Innovation Hubs
+900 organizations
The exceptional growth of SmartAgriHubs ecosystem highlights the demand from the smart farming sector for peer-to-peer learning, connections and exchanges.
This ecosystem was supported by a wide diversity of tools and products: the Innovation Portal and its forum, map, Agricultural Technology Navigator and learning tabs, but also SmartAgriHubs social media accounts, Flagship Innovation Experiments video series, newsletter etc.
SmartAgriHubs is a community open to everyone – we strongly believe that our purpose lies in matchmaking. Synergizing with other H2020 projects has allowed to reach to new target audiences, identify new topics and discuss our feedback. We welcomed our sister EU projects in Lisbon – check out our program to discover our Synergy pitching sessions on 27 September!
Sustainability & lessons learned
SmartAgriHubs is coming to an end, but the connections formed will remain. Many Innovation Experiments will continue to develop their solutions or are already preparing to launch on the market. New organizations and partnerships have formed, and we hope, new friendships! Those connections are our proudest achievement.
One of our main lessons learned is the importance of clear communication. The past two years have been impacted by the pandemic – we have (re)discovered the versatility of virtual tools and realised that European cooperation can benefit tremendously from in-person events, meetings and demonstrations. A dynamic and self-sustaining ecosystem needs to be cultivated. Regular communication flows, clear feedback processes and amplifying stakeholder voices at every level are crucial.
We are most grateful to our Regional Clusters and local organizations which supported the project on the grounds, representing us at local events and introducing SmartAgriHubs to the wider community.
The first day of the final event was a closed event, during which further discussions about the sustainability of the project took place. Stay tuned for more information.
_________________________________________________________________________________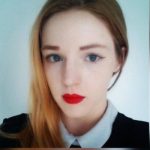 This article was written by Margaux Plurien, Work Package 1 – Digital Innovation Hubs Ecosystem Building of SmartAgriHubs