Walton Institute represented DEMETER at the Irish National and World Ploughing Championships on 20-22nd September, 2022. Europe's largest agricultural and outdoor event welcomed over 250,000 people across the three days in the countryside of Ratheniska, Co. Laois, approximately 90minutes from Dublin City.
Dave Hearne and Grainne Dilleen, both DEMETER researchers from Walton Institute joined colleagues in the South East Technological University (SETU) marquee where they shared information about DEMETER alongside other European projects.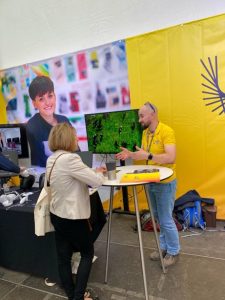 Over the course of the event, farmers and technical providers engaged with DEMETER, further raising the awareness of the project to an Irish audience. A key topic of conversation was the project's pilot programme in Ireland which aims to raise the requirements for animal wellbeing on dairy farms by incorporating animal behaviour and physiological data into a welfare and health score framework with a progression to a reference system.
This significant annual event on the Irish farming calendar welcomes people from all backgrounds creating the perfect opportunity for agri projects to promote their research to a wide audience. The ongoing research in DEMETER was presented to core target audiences including farmers, industry experts, agri-tech providers, the general public and promising third level students in the agri sector.
Events such as this show how the agriculture industry can experience growth by introducing new technologies and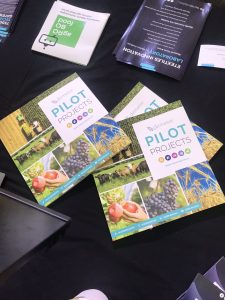 methods to farmers. Explaining these benefits to small and large farmers is crucial to the success of projects in Ireland and throughout Europe. Furthermore, the exchange of information at these events with numerous farmers in attendance is a great opportunity to grow the agenda of agri-tech. There are many benefits to working closely with farmers that not only increases awareness of EU-funded initiatives but also provides extremely helpful feedback for future advancements and improvement suggestions that would be otherwise difficult to see.
By offering the farmer educated, on-the-spot solutions, the creation of an interoperable ecosystem using precise technology will result in significant benefits for farmers and agri tech providers. As such, DEMETER will continue to engage farmers at events like the Ploughing Championships but also in specifically organised farm walks, sharing information on specific pilot projects.