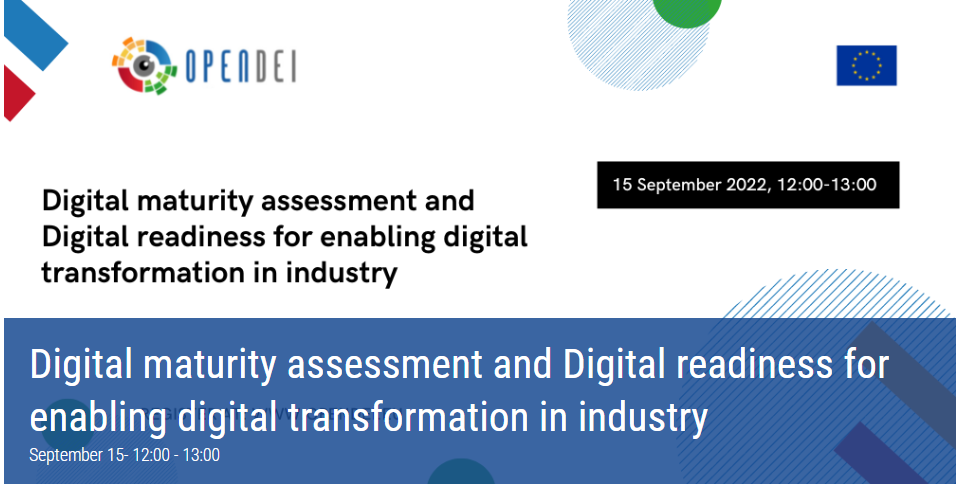 Open DEI are running a webinar on 15th September from 12.00-13.00 (CEST) to discuss digital maturity assessment and digital readiness for enabling digital transformation in industry. Speakers from Tecnalia and Politecnico di Milano will present their digital maturity tools.
Nowadays, different industries in Europe are undertaking their journey of digital transformation. The past two years marked an unprecedented time for digital technologies, which have been at the forefront of enabling business transformation. Digital technologies helped companies set up secure remote working, enabled digital channels to do business with customers, and ensured that supply chains and operations were kept afloat.
However, the uptake of digital transformation depends also on the digital readiness and maturity of the demand market. EU Industries' adoption of advanced technologies varies, as does their propensity to enable innovation through factors such as skills, leadership and mindset. Accordingly, understanding the digital maturity and readiness of a company is crucial in order to identify the pain points and design a practical digital roadmap.
This webinar aims at presenting two existing digital maturity assessment tools that are designed to assess the level of digital readiness of companies for their digital transformation for industry 4.0. During the webinar both tools DREAMY 4.0 and MDI 4.0 will be presented. In particular, the webinar will focus on assessment methodology, some results of tools implementations and use-cases and some findings and insights related to digital transformation journey of companies. A Q&A session will be run at the end to discuss and raise the most important topics in this regard.
Register for the workshop here