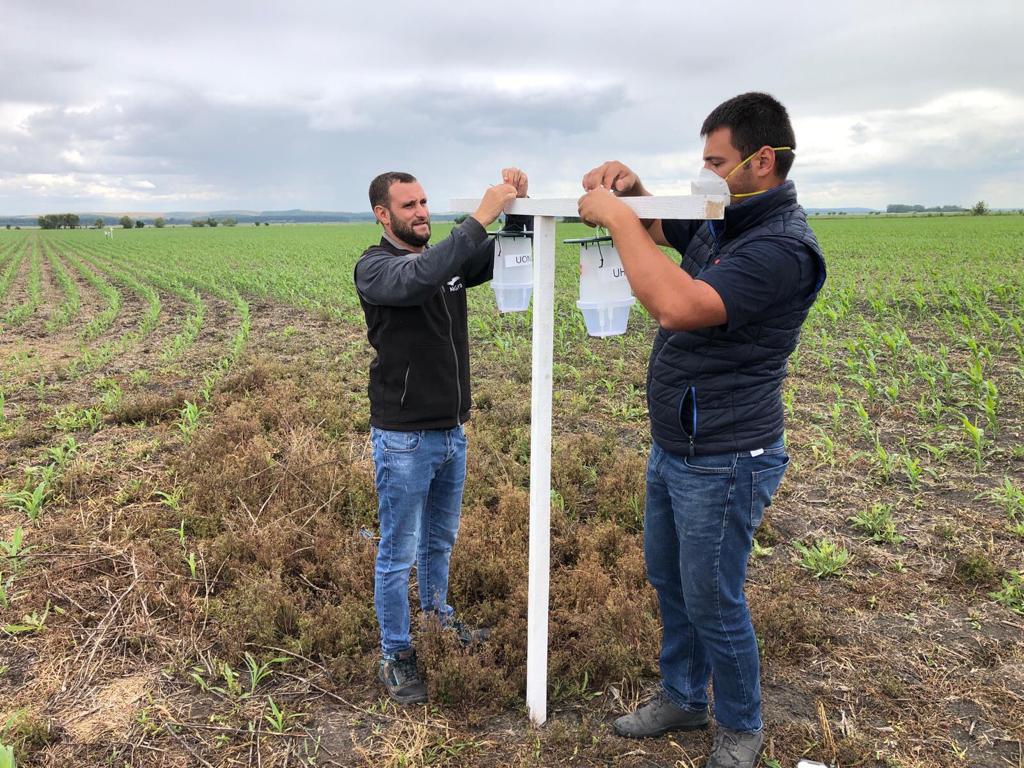 We chat to Mircea Predut from Software Imagination & Vision S.R.L. (SIMAVI) and Cristina Cionga from APPR to learn more about the pilot project they are working on in Cluster 1 which focuses on IoT Corn Management & Decision Support Platform.
What is the Romanian Maize Growers Association and can you explain more about your involvement in DEMETER?
Cristina: The Romanian Maize Growers Association (APPR) is a professional organization founded by a group of farmers in the Danube Plain, fond of applied research, who wanted to have access to the most powerful technologies to enable them to reduce the dependence of harvests by weather, in a region often affected by long dry spells. Therefore, they started cooperating with the French ARVALIS as well as with some local research institutes to get advice on what plant varieties and technologies were best yielding, given the soil and climate conditions in the area. The next step was to begin and then widen cooperation with seed companies present on the Romanian market, by testing different technologies in real field conditions to afterwards share and extend their experience with other growers.
In the beginning of 2013, the farmer group was officially registered as a non-governmental organization with a technical focus, with the acronym APPR. The founders decided to concentrate on maize, because for them it was a cash crop and because most seed companies had it in their portfolio, given the very favorable growing conditions in Romania.
The testing activity rose 10-fold in the following couple of years, covering all agricultural regions of the country and diversifying into all arable crops (wheat, sunflower, rapeseed, soybeans, sorghum). Currently, the field trials are outsourced to professional companies or local public research institutes, while APPR performs in-house the neutralized (anonymized) raw data. The association releases every year its report, anxiously expected by both the farmers and the partner companies, with the results of the applied research and rankings of the tested products in all locations, seen as a trustworthy independent information source.
At present, the association has about 600 members of various sizes throughout Romania (with operations from 50ha -50,000 ha), on a total of 500,000 ha.
Its mission was to bring together the entire maize chain, from farm to primary processing, and to represent and defend the interests of the members by providing technical assistance and carrying out research, monitoring, lobbying and communication activities.
APPR is a member to the European Maize Confederation (CEPM) and takes part in the Civil Dialogue Groups organized by the European Commission to gather relevant and helpful contributions from stakeholders towards sectoral policies.
In DEMETER, APPR is involved in pilot 1.4 IoT Corn Management & Decision Support Platform, together with its technology partner, SIMAVI.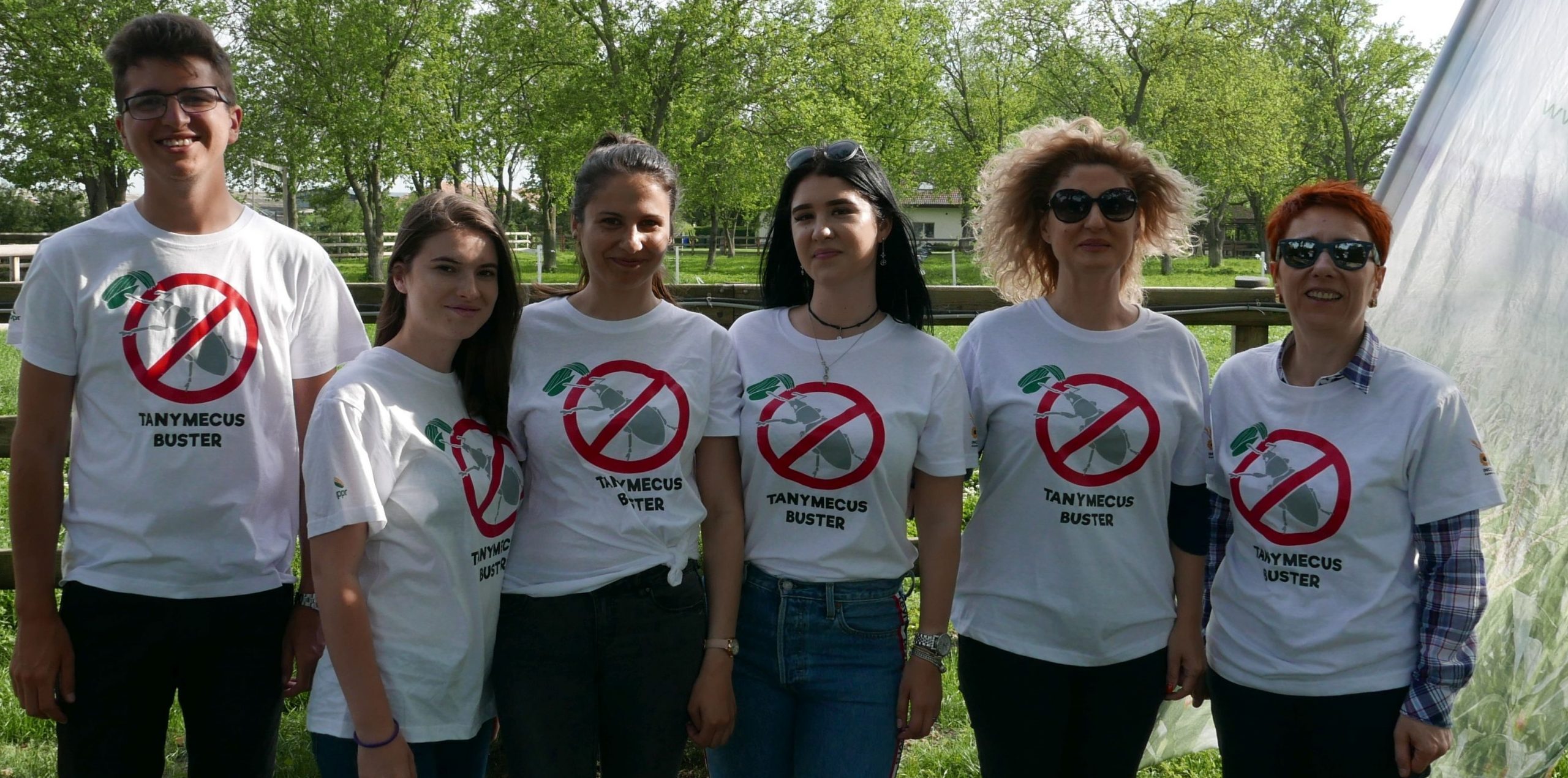 ---
Can you tell us a bit about your organisation, SIMAVI, and your involvement in the DEMETER project?
Mircea: Software Imagination & Vision S.R.L. (SIMAVI) is a newly established spin-off company of SIVECO Romania SA – a large software company established in 1992. SIMAVI has inherited all the assets related to the software development activities, the related experience in the field, the implementation teams, the certificates and the authorizations.
SIMAVI will pursue with a significant experience and an exceptional track record in R&D&I projects, being involved as technological provider and as coordinator in many European and national research projects.
SIMAVI's expertise in eAgriculture solutions has been built through developing and implementing state of the art IT projects dedicated to the agricultural sector in Romania. The IT projects carried out have a huge size and complexity, and outstanding results. Carrying out and implementing these IT projects has led to increasing the efficiency in managing European funds for the Romanian agriculture, during its 25 years proving the economic activity and developing the information society.
SIMAVI's role in DEMETER is to coordinate the Romanian pilot, to develop and integrate software components included in this pilot and the extensions and enablers necessary to ensure the interoperability.
---
What pilot project are you involved in?
In DEMETER, SIMAVI is leading the deployment of the pilot 1.4, IoT Corn Management & Decision Support Platform. This pilot aims to implement an IoT Corn Decision Support System for farmers to improve greenhouse gas emissions and poor water quality that drive business risks in corn production. This pilot belongs to the cluster 1, Arable Crops, with focus on water and energy management.
The pilot is designed in partnership with the Romanian Maize Growers Association (Asociatia Producatorilor de Porumb din Romania, APPR), our agricultural specialist partner. The pilot will be implemented in locations operated by 15 agricultural farms specialized in field crops, members of APPR, covering roughly 40K hectares. The geographical coverage will include some farms located in the south of Romania, benefiting from the typical favourable conditions and some in south east, a region having poorer characteristics. Due to the different characteristics of chosen regions from the point of view of soil and weather, we are expecting significant variations of collected data that will allow us to better validate the concept.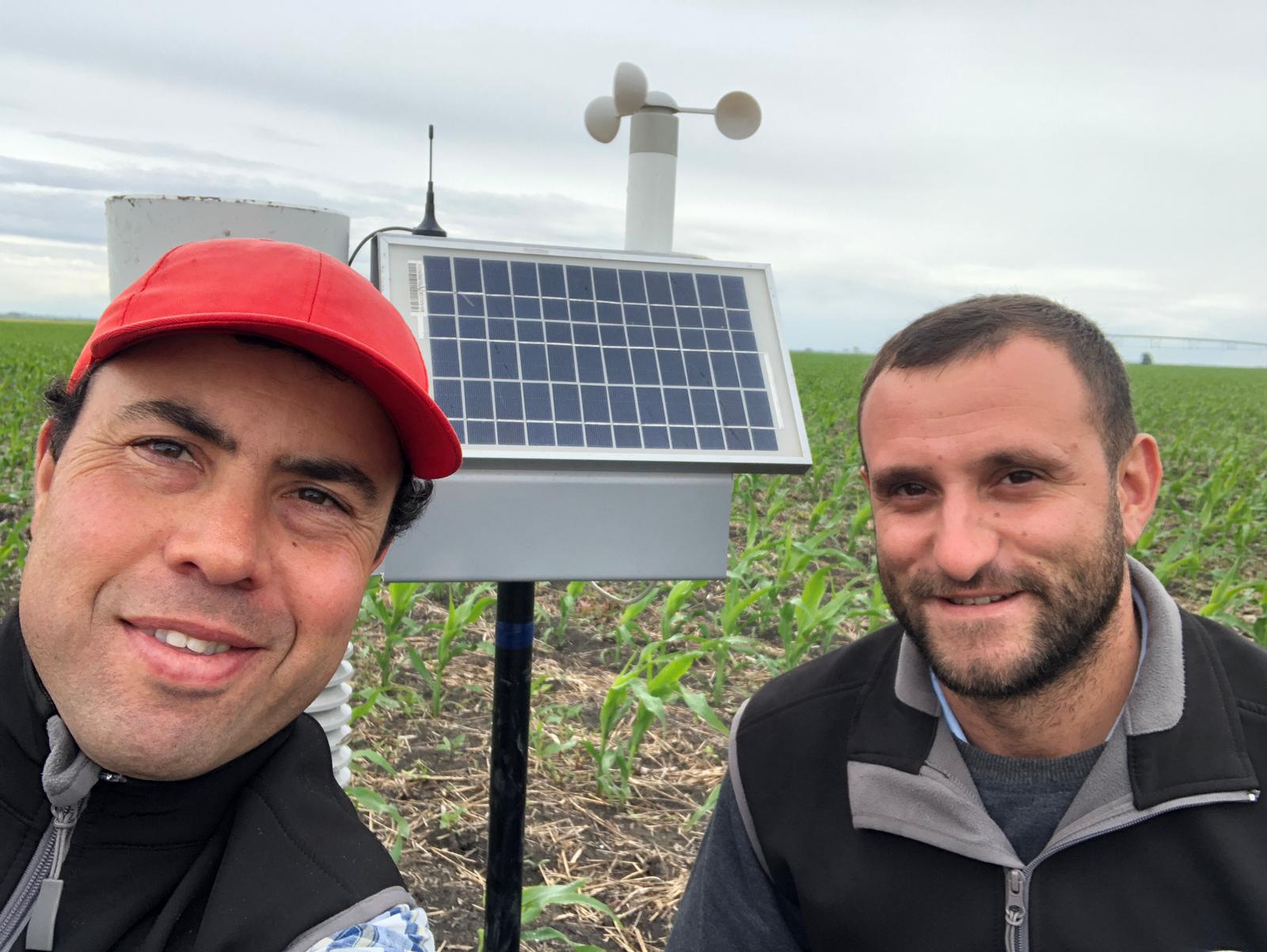 ---
What is the objective of the pilot project?
All farmers are using weather data but only some of the farmers are using sensors to correlate aerial measurements (temperature, air humidity) with real-time and historical data about soil temperature and moisture, crop types and rotations, type of corn hybrids, wind power and direction. Our decision support system should be able to smartly represent this correlated information, offer smart visualizations and trigger real-time or early warning alerts. To achieve this, the pilot will:
collect heterogeneous data from various data sources (sensors, stations, web sites, external imported excel or image files) and various farms
create farm groups and profiles corresponding to geographical position, and crop types
offer correlated data to farmers
improve responsiveness of Inovagria platform by triggering real-time or early warning alerts
offer simple and intuitive visualizations
display data at different levels: farm, group of farms, plot of land, several plots
display the exact or recommended time to execute an agricultural treatment as irrigation, fertilization, bug or weed removal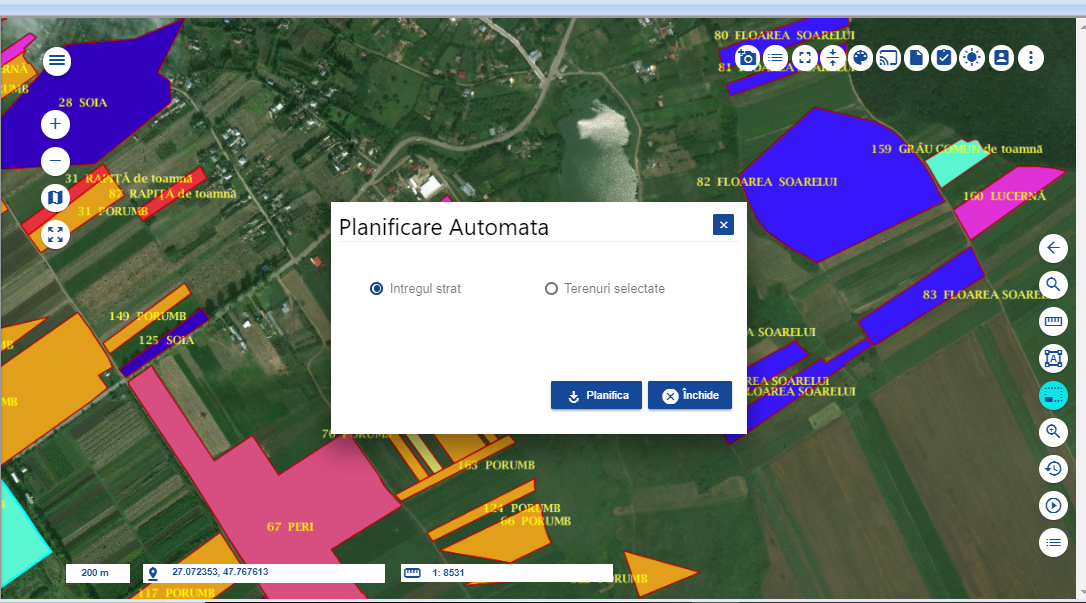 ---
What approach are you taking?
During the pilot implementation we will carry out the inventory of technical existing assets in the farms (weather stations, sensors, communication facilities, coverage).
An IoT / data source mapping on farms should be conducted to validate the practicality of their current technical inventory. An as-is process diagram will be designed, and a fit-gap analysis will be performed. Consequently, we will choose the participating HW components and we will purchase the missing equipment. Some producers or vendors of IoT devices will be contacted for technical descriptions and offers. The pilot will assign to each farm a specific number and type of relevant sensors / data sources. All IoT components and other sources will be technically enabled to feed the Inovagria platform database instance. All farm profiles, type of crops, rotation schemes, calendars, statistical/historical data will be loaded in the same instance. The current Inovagria platform will be adjusted to accommodate new capabilities/extensions.
We will collect real-time data from IoT devices (sensors and weather stations) and from other data sources (imagery, geo-location, GIS, drone footage, statistical data). This will improve and extend the existing Decision Support System (DSS) for live support of agricultural processes.
---
What other stakeholders are involved in the pilot project?
We have already mentioned our agricultural expert partner APPR which is coming with the experience of managing arable crops and is also responsible for the relationship with the participant farmers. Other stakeholders are Vantage, an IoT sensors provider that already owns a large nationwide network of weather stations and sensors, the 15 participating farms and academic experts.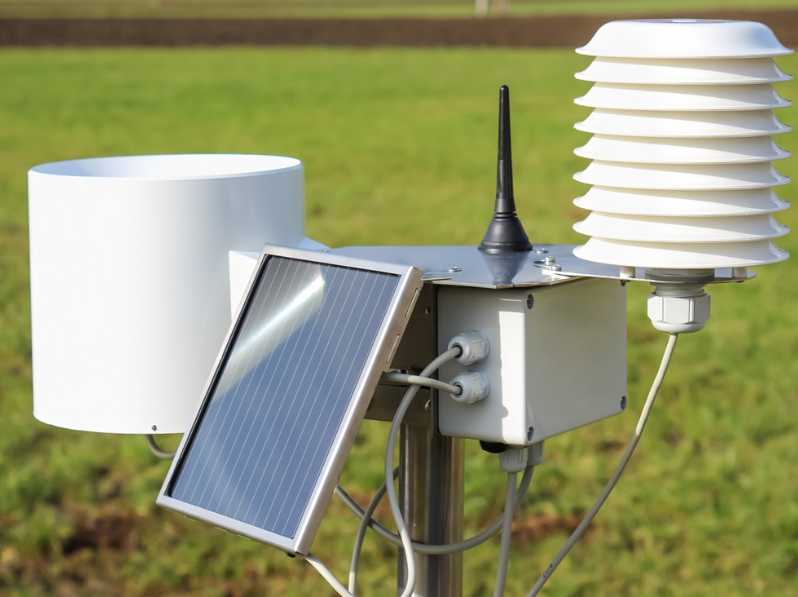 ---
What are the expected outcomes of the pilot project?
The expected benefits of our pilot is to improve the existing decision support system of Inovagria management platform by extending the number of correlated data types which will trigger a more educated automatic decision and will provide:
More information to farmers (correlated data: weather, soil properties and hybrid maturities, geo-location, etc.) will facilitate faster and more accurate decisions.
Real-time warnings and forecasts.
Increase awareness of the importance of Decision Support Systems.
Water use and fertilizer rate optimization.
---