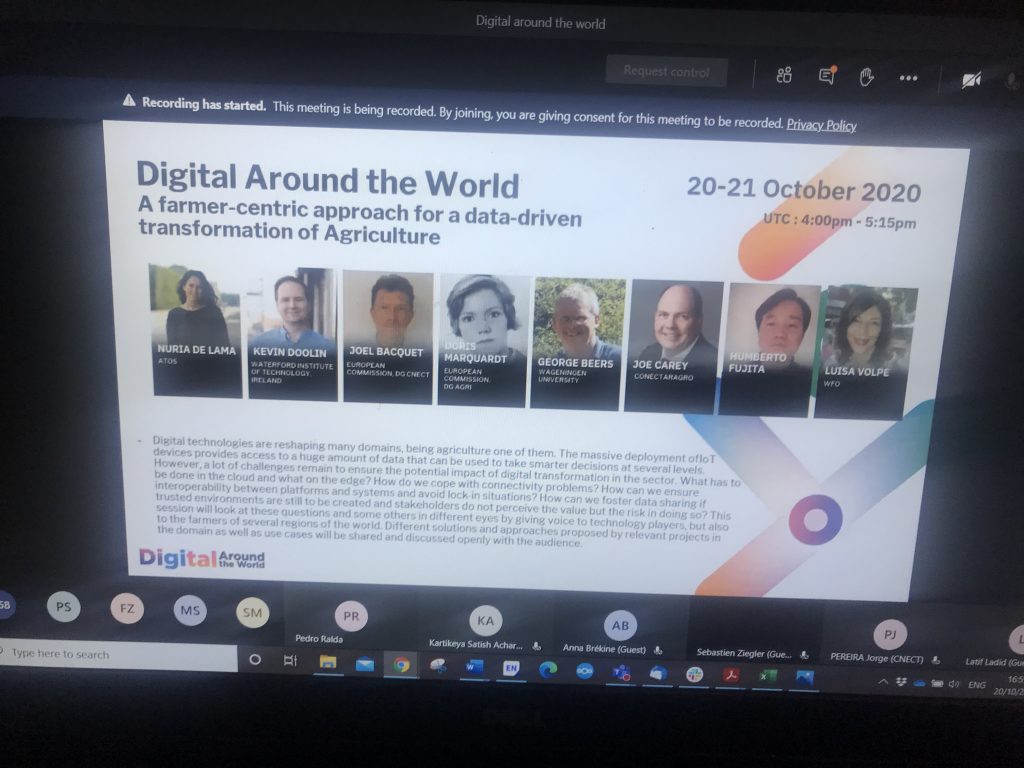 The 24-hour Digital Around the World Conference, organised by IoT Forum, took a place on the 20th and 21st October. The conference brought together top-level speakers discussing the latest trends in digital transformation.
DEMETER sponsored a session on Tuesday 20th October focused on 'A farmer-centric approach for a data-driven transformation of Agriculture'. The session was moderated by Nuria De Lama of Atos and DEMETER WP6 Leader.
The session looked at key challenges such as interoperability, connectivity, trust and transparency from various viewpoints. Different solutions and approaches proposed by relevant projects in the domain as well as use cases were shared and discussed openly with the audience.
The speaker line-up and topics discussed were as follows:
– DEMETER Project Coordinator, Kevin Doolin, gave an overview of DEMETER and how the multi-actor approach is leading to the co-creation of solutions to meet farmers' needs.
– Humberto Fujita discussed how technologies can help to combat counterfeiting of agro-chemicals leading to greater security for the farmer and the consumer.
– Joel Bacquet and Doris Marquardt of the European Commission outlined the need to create an enabling environment to exploit the potential of digital technologies in agriculture.
– George Beers from Wageningen University & Research discussed the work being undertaken in EU projects IoF2020 and SmartAgriHubs to drive digitisation in the agri food sector
– Joe Carey from Trimble spoke about the importance of connectivity in digital agriculture and discussed the Brazilian ConectarAGRO initiative.
– Luisa Volpe from World Farmers' Organisation outlined 4 main areas which must be addressed to drive farmers' use of technology – the political environment , investment capacity particularly for smaller farmers, technology infrastructure and sufficient training.