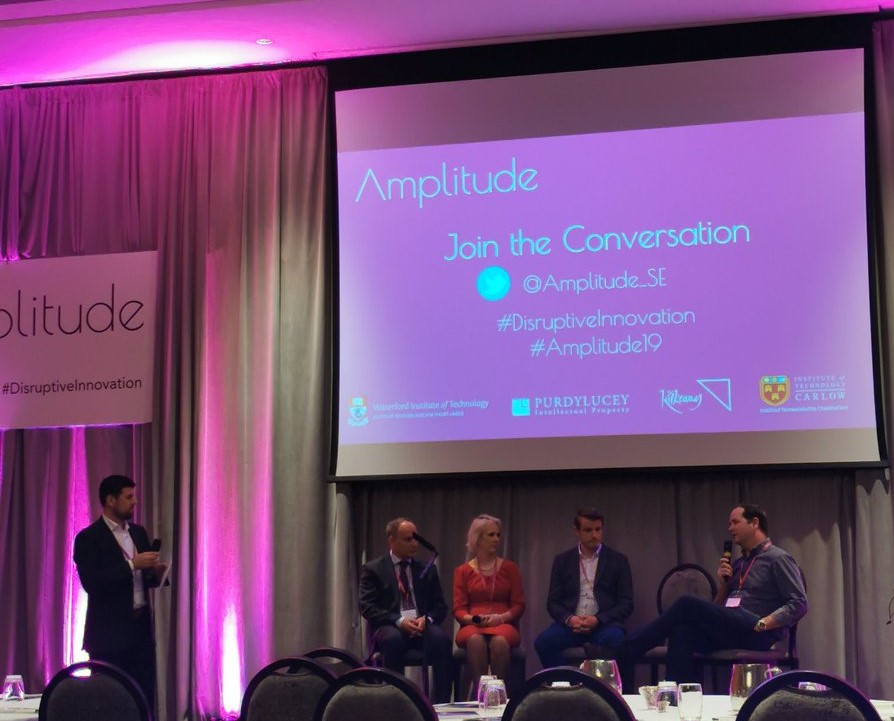 The DEMETER project was discussed at the recent Amplitude conference held in Kilkenny, Ireland on 6th November 2019. Amplitude is an annual conference led by the Technology Transfer Offices of Waterford Institute of Technology (WIT) and Institute of Technology Carlow with the support of Enterprise Ireland (EI) Technology Gateways and Research Centres. Over 80 attendees were present on the day to learn more about collaborating with research partners and accessing large funding pots.
Kevin Doolin of TSSG (Telecommunication Software and Systems Group) sat on the Precision Agriculture panel discussion. Kevin gave an overview of the DEMETER project and the importance of enabling interoperability from farm to fork. The panel discussion was moderated by Dr Steven Daly, Research Unit Manager at TSSG. Other participants included Patrick Barrett, Department of Agriculture Food and the Marine; Nicky Deasy, The Yield Lab and Declan Wrynn from Anuland. The importance of sustainable agriculture and disruptive innovation was highlighted by all panel participants. Furthermore, the benefits of using ICT on the farm must be demonstrated clearly to the farmer to improve adoption rates.
The DEMETER Project is a large-scale deployment of farmer centric, interoperable, smart farming-IoT based platforms. DEMETER will show how field and plant sensors, weather stations, monitoring and control devices will help support sustainable and safe farming and food production systems into the future. Through its multi-actor approach, the future farming programme is also set to improve farmer wellbeing and generally support farmers in precision decision making.
This €17 million programme, funded by the European Commission, will involve 25 deployment sites, 6,000 farmers and over 38,000 devices and sensors, spanning 318,000 hectares in 18 countries, 15 of these EU states. It includes 60 partners and together, they will run 20 different pilot programmes across five agricultural sectors.