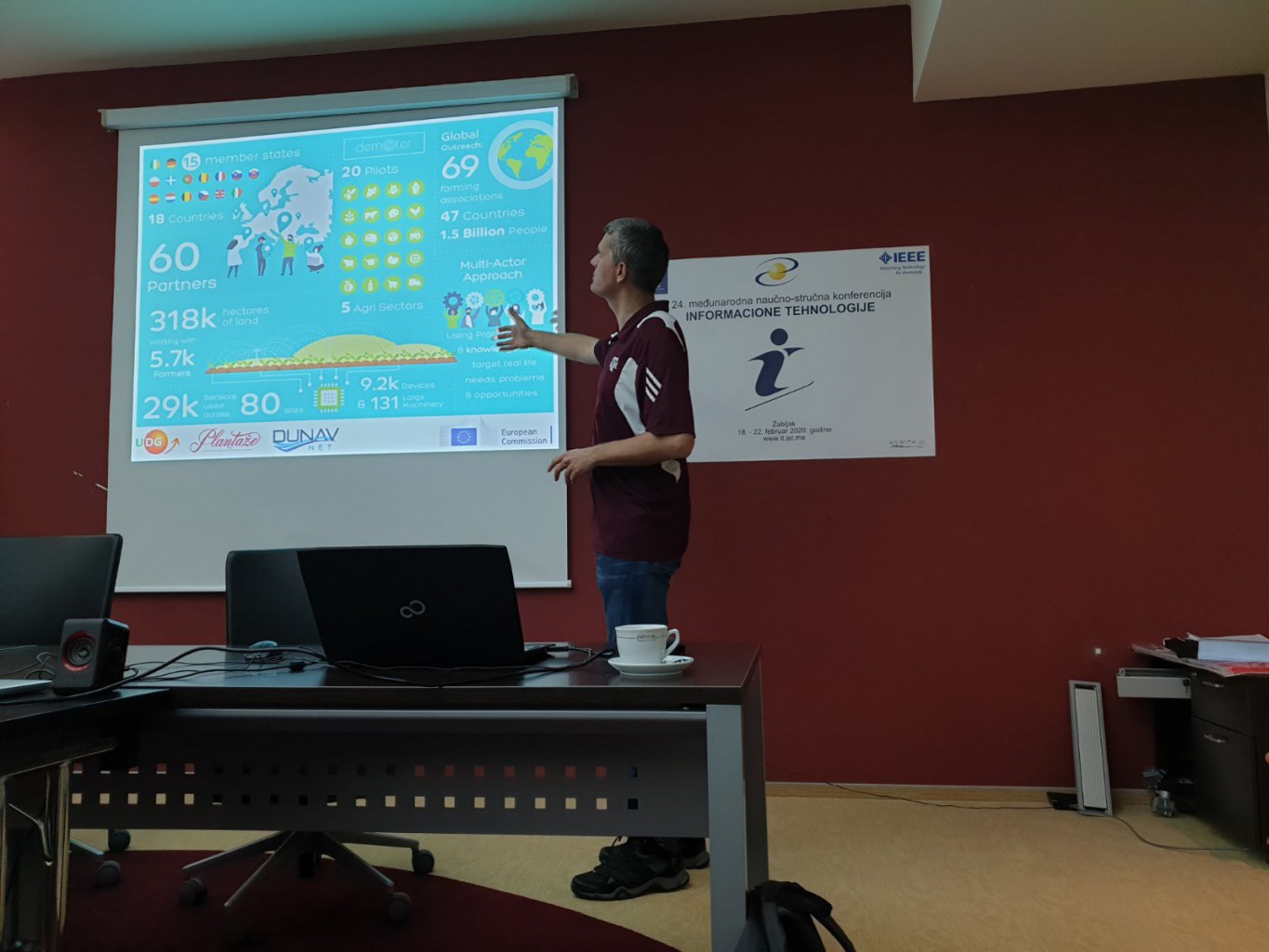 The DEMETER project, which aims to lead the digital transformation of Europe's agri-food sector, was presented recently at several European conferences and workshops. DEMETER seeks the adoption of advanced IoT technologies, data science and smart farming to ensure the sector's long-term viability and sustainability.
Some of the conferences are outlined below:
At the IEEE 24th International conference on Information Technology (IT2020) held in Zabljak, Montenegro, DEMETER was presented within a dedicated session called "Digital transformation of agriculture and the food supply chain (Projects presented: DIPOL, H2020 DEMETER)". The project was introduced by Dr Tomo Popovic (University of Donja Gorica, Montenegro) and Dr Nenad Gligoric (DunavNET, Serbia).
Nuria De Lama from ATOS presented at the IoT Architectures & Standards event organised by DG Connect and AIOTI Alliance for Internet of Things Innovation. The aim of the event was to bring together projects from the first phase of IoT large scale pilots and the second wave of European platform projects.
At the EIP-AGRI Service Point seminar on "New skills for digital farming" in Aranjuez, Spain, Ethan Cleary from the IFA (Irish Farmers' Association) spoke about the DEMETER project and also presented findings from the IFA study on "Digital agriculture technology – adoption and attitudes".
Dr. Karel Charvat (LESPROJEKT chairman) presented DEMETER at the Prague Inspire Hackathon focusing on Digital Innovation Hubs in Agriculture and Transport. The Hackathon was delivered to an audience of over 50 national and international experts in agriculture.
Usman Wajid, from Information Catalyst presented DEMETER at the EU Workshop "Agriculture in Digital Europe Programme: Testing and Experimentation Facilities".