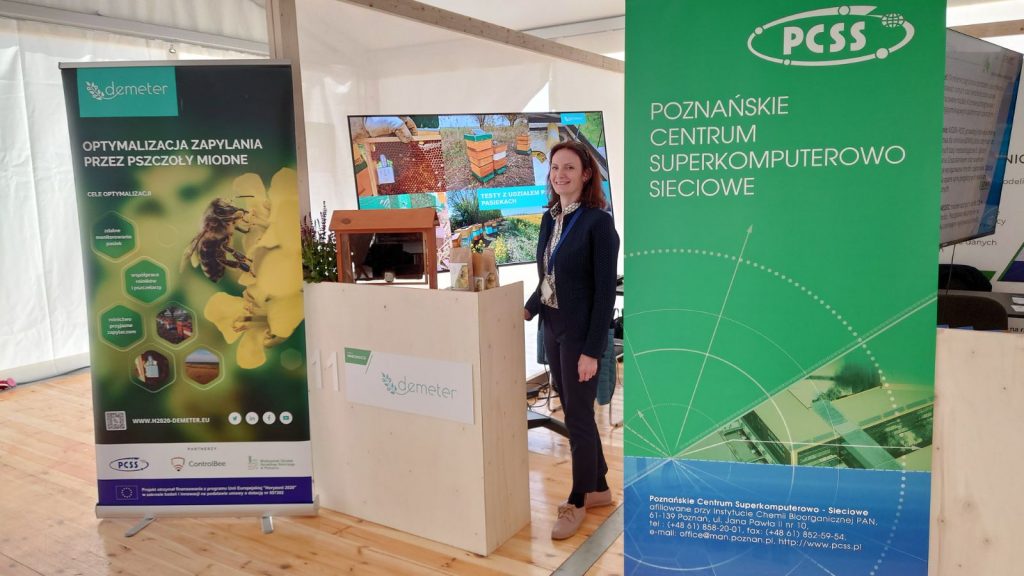 On June 3 – 5, the DEMETER project, along with two Polish pilots (Pilot 2.4 and Pilot 5.3), were presented at the 4th National Field Days (https://www.dnipola2023.pl/) – an event organized by the Wielkopolska Agricultural Advisory Centre in Poznan (WODR).
DEMETER had its own stand within the Innovation Space exhibition where visitors were able to talk to researchers from Poznan Supercomputing and Networking Center and WODR experts and learn more about project activities and results.
National Field Days is one of the largest agriculture industry events in Poland, which every year attracts tens of thousands of visitors and hundreds of companies from all over Poland. The Innovation Zone was a specially prepared space where visitors could look at demonstrations of state-of-the-art tools used in agriculture. In addition to DEMETER, the Innovation Zone showcased agriculture-related projects such as Datamite, AI4EOSC, ScaleAGData, ICOS, AgriFoodTEF, AgriDataSpace, Stargate, AD4GD and the EOSC DIH and EuHubs4Data initiatives.
The fair attracted crowds of visitors who were able to see modern equipment and machinery, field demonstrations, admire the most beautiful specimens of livestock, listen to regional music or taste and purchase local delicacies.